U.S. moving ahead on bank oversight
Treasury chief Geithner says new regulatory structure needs to be 'cleaner' and consolidated - says administration will unveil legislation within weeks.
Bailout tracker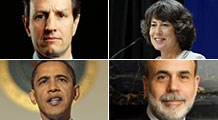 The government is engaged in a far-reaching - and expensive - effort to rescue the economy. Here's how you can keep tabs on the bailouts.
More
WASHINGTON (CNNMoney.com) -- With bank stress tests out of the way, the Obama administration has turned its focus to reshaping how the government oversees financial institutions and could potentially push to consolidate regulators.
On Wednesday, in a speech to community bankers, Treasury Secretary Tim Geithner said he and President Obama believe the nation needs a "much more simplified, consolidated oversight structure."
Geithner said his agency would unroll a new bill proposing "substantial changes" to the regulatory system in the next couple of weeks. Top Treasury staffers met Friday with leading industry lobbyists to discuss regulatory overhaul, according to industry sources.
Two months ago, Geithner unveiled proposed new regulatory changes to prevent future financial collapses.
The debate over how to carry out such a plan has focused on so-called resolution authority -- or a new system for unwinding financial firms considered too big to fail -- and the creation of a strong, single regulatory agency with more power to monitor risk throughout the financial systems.
High-ranking Obama administration staffers told the group of banking industry lobbyists Friday that they believed the Federal Reserve should have that broader risk-monitoring power, according to a banking official who attended the meeting.
The idea of consolidating agencies has also been discussed, but officials have talked about the idea far less, at least in public forums. It's a touchy subject.
Changing the current regulatory power structure likely would result in folding some agencies into others, experts say. Even in March, Treasury warned against allowing turf wars to get in the way of such changes.
The Securities and Exchange Commission, Federal Deposit Insurance Corp. and Federal Reserve all play major roles supervising banks and other financial institutions.
Yet, a host of other regulatory agencies, including the Office of Comptroller of the Currency, a bureau of the Treasury, which regulates national banks, are also involved. The U.S. Commodities Futures Trading Commission oversees commodity futures and option markets and the Office of Thrift Supervision regulates many mortgage lenders.
The OTS is among those agencies that experts say is on the hot seat. OTS was in charge if overseeing American International Group (AIG, Fortune 500) and failed lenders IndyMac and Washington Mutual.
Some experts have accused troubled companies of "regulator shopping" during the run-up to the financial crisis. Geithner on Wednesday said he wanted to make it tougher for businesses to "just migrate around and move around where regulation is less carefully designed."
Geithner, during his speech to the Independent Community Bankers of America, also revealed a new plan to help smaller banks get access to bailout dollars, extending the deadline small banks can apply for relief another six months.
The Treasury Department intends to loosen up the rules to allow banks with under $500 million in assets to apply for funds under the Troubled Asset Relief Program. Treasury plans to use some of the TARP money it expects to be returned by big banks like Goldman Sachs.

Features

These Fortune 100 employers have at least 350 openings each. What are they looking for in a new hire? More

It would be the world's second-biggest economy. See how big companies' sales stack up against GDP over the past decade. More