AIG 'bonusgate': Lessons learned
As anger resurfaces about AIG's controversial bonuses, lawmakers say a perfect storm may be forming for broad action on compensation reform.
Bailout tracker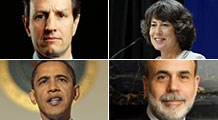 The government is engaged in a far-reaching - and expensive - effort to rescue the economy. Here's how you can keep tabs on the bailouts.
More
NEW YORK (CNNMoney.com) -- The furor over AIG's controversial bonuses is boiling over again.
As more details about the payouts are being brought to light, Congress remains up in arms that AIG has been doling out rewards even as it was going hat in hand to the government for a multi-billion-dollar bailout.
Although it's unlikely that AIG will be targeted specifically, lawmakers say "bonusgate" could be used as a springboard for broader legislation.
"This is the moment," Rep. Elijah Cummings, D-Md. told CNNMoney.com. "With a Democratic-controlled Congress and White House, and with the American people suffering the way they're suffering, if reform doesn't take place now, heaven knows when it will."
Anger first erupted in March after it was revealed that AIG had paid out $165 million of retention bonuses to executives at the company's crippled financial products division, as well as an additional $120 million in performance bonuses.
The hullabaloo subsided almost as quickly as it began, but only after AIG Chief Executive Edward Liddy asked employees who took home more than $100,000 in bonuses to return at least half. Liddy's pledge put the brakes on legislation that would have levied a 90% tax on the top tier of bonuses. So far, AIG said about a third of the bonuses were returned.
The bonus buzz returned to the forefront last week after AIG revealed that the performance figure was nearly four times what had been originally disclosed.
Last week, AIG (AIG, Fortune 500) told Cummings that the company had, in fact, paid out $454 million in performance bonuses, not the $120 million that had been announced in March. That's separate from the previously disclosed retention bonuses of $1 billion, including the contentious $165 million, that AIG already started paying out.
Also last week, AIG told Rep. Gary Peters, D-Mich., that most of the company's risk management division received retention and performance bonuses. Those bonuses were paid out despite that division's inability to identify the risk associated with a housing market collapse.
"Given the tremendous losses and the fact that these individuals signed off on them signals that they failed miserably," Peters told CNNMoney.com. "Anyone that fails certainly doesn't deserve performance bonuses, especially if their failure took the company down to its knees and the entire economy down with it."
New legislation: "All of this is fodder for doing broad compensation reform," said Ellen Seidman, financial services policy director at policy group New America Foundation. "The more this kind of information comes out, the easier it will be to sell the concept that compensation really ought to be related to performance."
Currently, AIG employees, like most other employees in the financial sector, receive low base salaries and large annual bonuses that are tied to the quantity of work done as opposed to quality of performance.
If bonuses were tied to an individual's quality of work, there would be more incentive for employees to perform well, say Seidman and Cummings.
Seidman suggested a plan that would treat bonuses like a commission that is paid out immediately after certain goals are met. Not only does that create incentive for workers, it minimizes defections.
Analysts say the most likely outcome from the bonus outcry will be new legislation designed to change the way financial institutions pay out bonuses. Federal Reserve Chairman Ben Bernanke has touted compensation reform in the past few months, and the Treasury Department is reportedly considering drafting new legislation.
"AIG has highlighted, more than any other company, why reform is so very, very important," Cummings said.
Seidman said compensation reform will be "hard to draft and harder to sell," but she thinks it could pass if the uproar remains
AIG's defense: Liddy had argued that all of the bonuses needed to be paid out to retain top talent, especially at the financial products division.
"I am trying desperately to prevent an uncontrolled collapse of that [financial products] business," he said in March. "This is the only way to improve AIG's ability to pay taxpayers back quickly and completely and the only way to avoid a systemic shock to the economy that the U.S. government help was meant to relieve."
But Liddy said Wednesday that only 10 to 15 of the 400 employees in the troubled unit have actually left due to the bonus controversy. AIG spokeswoman Christina Pretto said that number may rise as employees finish winding down the financial products business.

Features

These Fortune 100 employers have at least 350 openings each. What are they looking for in a new hire? More

It would be the world's second-biggest economy. See how big companies' sales stack up against GDP over the past decade. More