GM whacks 1,100 dealers
Automaker makes big cut as part of plan to drop 40% of dealer network. Many are expected to leave the business this year.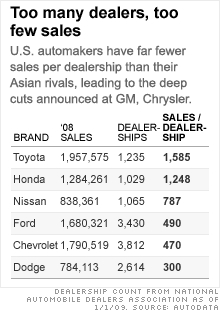 Photos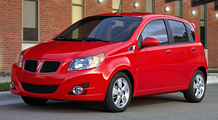 NEW YORK (CNNMoney.com) -- General Motors notified 1,100 of its 6,000 dealerships Friday that it is terminating their contracts with the struggling automaker, the first step in cutting up to 40% of its retail network.
GM spokeswoman Susan Garontakos said that the dealers receiving notice Friday are being told that their contracts will not be renewed in October 2010. Many of them are expected to close shop this year.
The company is likely to cut another 900 and eventually get its network down to between 3,600 and 4,000 dealers by next year, GM vice president Mark LaNeve said.
Of the 900, about 500 will come from GM's plans to sell or close four brands - Saturn, Hummer, Saab and Pontiac. Another 400 dealers will be eliminated in a second cut as GM continues to restructure.
On top of the dealers GM is cutting, LaNeve said another 400 will be lost through attrition and consolidation. Some will decide to move away from selling GM brands and others will decline to meet the automakers' requirements for additional investment in their facilities.
The company's expectation is that the surviving dealerships will become larger and more profitable as a result of the thinning out, which in turn will allow them to spend more on advertising and facilities. But GM also acknowledges that its long-term decline in U.S. market share will continue as a result of the smaller network of dealers.
Between 400 and 500 of the dealers notified Friday sold an average of only 35 vehicles a year, or about three a month.
The rest of the dealers on the list also had very low average sales by industry standards - only about five or six vehicles a week. In total the 1,100 dealers sold about 7% of GM's sales volumes last year.
"These are dealerships that were hurting, in danger of going out of business anyway," said LaNeve. "It [the letter] shouldn't be a surprise to them."
Business failures and purchases of dealerships by larger dealers has already shaved GM's dealership ranks by about 300 this year, Garontakos said.
GM will be facing a serious problem if the majority of the dealers decide to quit the business in the near term. That's because under their contracts, GM would then be required to repurchase the 65,000 cars they have in their collective inventory.
"It would be a huge cash flow hit," LaNeve said about difficulty in GM having to repurchase or resale all those vehicles. "Supply and demand would really take down resale values."
The move comes a day after Chrysler LLC announced that it is dropping nearly 800 Chrysler, Dodge and Jeep dealers, or about a quarter of its network, as part of its bankruptcy restructuring. The Chrysler dealerships agreements will be terminated around June 9, assuming the move is approved by the bankruptcy court. Under terms of the bankruptcy filing, Chrysler would not repurchase their inventory or pay anything for their closure.
GM (GM, Fortune 500) is not yet in bankruptcy court, although CEO Fritz Henderson has said such a filing is "probable." The company has until the end of the month to win agreement from creditors, unions and dealerships on a turnaround plan. If it fails to do so, the Treasury Department, which has been bankrolling GM's ongoing losses, has said it will force the company to file for bankruptcy.
Buffalo, N.Y.,-area auto dealer Duane Paddock, chairman of the GM dealer council, said he hasn't even seen the list of 1,100 dealers. He said that he had heard from two dealers who got the letters Friday and neither was surprised.
"I've got to think that some dealers will look at this and say, 'It's time for me to go.' Others may go out and look for another franchise," Paddock said. "One of the things it does is give them time to make a good decision."
Paddock said it's too bad that GM has reached the point where it needs to cut dealerships, but that the remaining dealerships will be more profitable as a result.
"One thing that was evident was that there were too many dealers and the pie just wasn't big enough," Paddock said.
GM, Chrysler and Detroit rival Ford Motor (F, Fortune 500) have far larger U.S. dealer networks than their Asian rivals, a remnant to the days when the so-called Big Three dominated the market in a way they no longer do.
The National Automobile Dealers of America estimates that GM's cuts will affect about 63,000 employees of those dealerships. By comparison, GM employees about the same number of union workers in its factories.
LaNeve said he knows many of the affected dealers personally.
"This isn't easy for anybody," he said. "But for the survival of the enterprise you have to put a strong plan in place. That's the goal here."
NADA and various dealership organizations at GM and Chrysler are fighting the cuts, lobbying Congress and hiring bankruptcy attorneys to argue their case. The dealers hope that state franchise laws may still protect them, despite the powers granted to the bankruptcy court and the demand for cuts by the Treasury Department.
"We view GM's action with a profound sense of sadness and disappointment," NADA said in a statement. It said the company's problems are "no fault of the dealers, who are, in many cases, family-run businesses that have been loyal partners with GM -- through good times and bad -- for multiple generations."
Bruce Spencer, a partner at the Smith Law Firm in Helena, Mont., and an expert in dealer franchise law, said he believes many dealers will have a strong court case fighting the termination as long as GM stays out of bankruptcy court.
GM's big losses might not be seen as "good cause" for terminating the dealer contracts, Spencer said. The dealers' chances in court drops dramatically if GM files for bankruptcy, he added.
The names and locations of all 1,100 dealers was not publicly released Friday. GM had previously said it would likely cut in major metropolitan and suburban areas, where it acknowledges that "dealership overcapacity is most prevalent."
Some of the dealers that survived Friday's cuts expressed relief.
Judy Schumacher-Tilton, who operates two Chevrolet dealers in the New Jersey suburbs of New York City, said she had been confident that her sales volume would allow her to survive, but admitted "everyone had fear."
One of her dealerships, Schumacher Chevrolet, is a single-brand operation on a downtown main street, rather than a multi-brand dealership on a highway. Many experts had speculated the downtown and single-brand dealers were most at risk of closure.
"I was trying to be positive that GM would make the right decision," said Schumacher-Tilton, whose father started one of the dealerships she operates 72 years ago. "I'm going to be here another 70 years."

Features

These Fortune 100 employers have at least 350 openings each. What are they looking for in a new hire? More

It would be the world's second-biggest economy. See how big companies' sales stack up against GDP over the past decade. More