Bailed out banks lending less
Amount of outstanding loans from banks that received TARP funds fell 0.8% from February to March, a Treasury report reveals.
Bailout tracker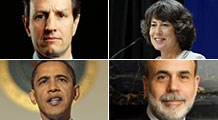 The government is engaged in a far-reaching - and expensive - effort to rescue the economy. Here's how you can keep tabs on the bailouts.
More
NEW YORK (CNNMoney.com) -- Banks that took billions of dollars in taxpayer aid clamped down on credit during the month of March, according to a Treasury Department report published Monday.
In its first broad-based view of lending activity of the 500 financial institutions that received money under the agency's Capital Purchase Program, the Treasury said the total amount of loans outstanding contracted by 0.8% in March to $5.24 trillion from $5.28 trillion in February.
The report, which included everyone from smaller community banks to major national banks like Bank of America (BAC, Fortune 500) and JPMorgan Chase (JPM, Fortune 500), revealed that banks pulled back the most on new business loans. The amount of commercial loans outstanding fell 1.2% to $2.35 trillion.
The amount of consumer loans, including residential mortgages, student loans and credit card lines, fell by less than half that amount, declining 0.5% in March to $2.88 trillion in March.
Monday's report marks the first time that Treasury provided any details about lending activity by regional and community banks that received government aid under the program, still commonly referred to as the Troubled Asset Relief Program, or TARP.
Since February, the agency has been providing monthly data on lending activity at the country's 21 largest financial institutions to provide a better sense of just how these banks were using billions of dollars in taxpayer funds.
Treasury said Monday's announcement was part of that effort to ensure greater transparency
So far, roughly $200 billion has been invested in more than 500 financial institutions across the country as part of the Treasury's capital purchase program. Banks have broadly come under fire for not using those funds to make new loans or extend existing lines of credit to consumers and businesses.
Banks have maintained, however, that they are lending even as the appetite for new loans has fallen. Demand for commercial real estate and business loans, for example, have dwindled in recent months as many companies pared back expansion plans -- a trend that banks predict will continue.

Features

These Fortune 100 employers have at least 350 openings each. What are they looking for in a new hire? More

It would be the world's second-biggest economy. See how big companies' sales stack up against GDP over the past decade. More