U.S. budget deficit nears $1 trillion
Treasury Department says the May shortfall was $189.6 billion, bringing the total deficit for the current fiscal year to $991.95 billion.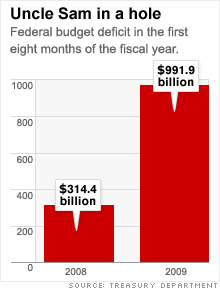 Bailout tracker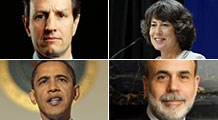 The government is engaged in a far-reaching - and expensive - effort to rescue the economy. Here's how you can keep tabs on the bailouts.
More
NEW YORK (CNNMoney.com) -- The federal budget deficit surged in May, bringing the total shortfall for this fiscal year to nearly $1 trillion, government figures showed Wednesday.
The Treasury Department said the May deficit was $189.65 billion, up from a shortfall of $165.93 billion a year ago. Economists surveyed by Briefing.com had expected a deficit of $181 billion.
For the first eight months of the fiscal year, which began in October, the total deficit hit $991.95 billion.
That's compared to a deficit of $314.4 billion in the same period a year earlier, and $454.8 billion for all of the previous fiscal year.
In April, income tax revenue helped narrow the monthly deficit to $20.91 billion. However, it was the first April deficit in 26 years.
The deficit comes as the government has pumped billions of dollars into the economy to help fight the worst financial crisis in a generation.
"We're going to see very large budget deficits for the next couple of years," said Gus Faucher, director of macro economics at Moody's Economy.com.
Running up a deficit is "necessary to end the recession," he said. "But after the crisis is over, the federal government will need to get its fiscal house in order."
The current deficit is about 12% of the nation's gross domestic product, which is a level not seen since World War II, according to Faucher.
In response to the swelling deficit, President Obama urged Congress Tuesday to adopt a "pay-as-you-go" approach to federal spending.
The so-called "paygo" system requires lawmakers to pay for new programs, dollar-for-dollar, with budget cuts elsewhere.
"Paying for what you spend is basic common sense," the president said Tuesday. "Perhaps that's why, here in Washington, it has been so elusive."
May receipts were $117.2 billion, versus $266.2 billion the month before, bringing the total amount that the government has taken in so far this year to $1.37 trillion.
Total outlays for May were $306.9 billion, an increase from $287.1 billion in April. For the fiscal year to date, outlays totaled $2.36 trillion.
Looking ahead, the government said it expects to spend $3.9 trillion this fiscal year, which ends Sept. 30.

Features

These Fortune 100 employers have at least 350 openings each. What are they looking for in a new hire? More

It would be the world's second-biggest economy. See how big companies' sales stack up against GDP over the past decade. More