The rise of freelance nation
Don't wait for the company to push you. Start thinking like an entrepreneur now.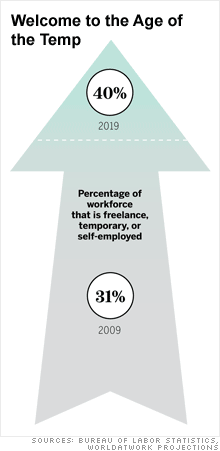 (Money Magazine) -- Old: The seismic shift in the labor force away from traditional full-time jobs and toward contract work didn't start with this recession. But the downturn that began 17 months ago has certainly accelerated the transformation. In a highly competitive and volatile global economy, "companies want a workforce they can switch on and off as needed," says Ravin Jesuthasan, a compensation expert at Towers Perrin.
New: Today about 30% of the U.S. job market - roughly 42 million workers - is made up of independent contractors, part-time or temporary staffers, and the self-employed. By the end of the next decade, long after this recession is a distant memory, this "contingent" workforce will have grown to about 40% of the market, experts predict.
This trend is also expected to spread beyond traditional bastions of freelancing to professions such as accounting, engineering, health care, law and sales. All are already starting to rely more heavily on contract work.
"We're in the early stages of what will be a really different era in the work-place, and a growing segment of workers will need to structure their career around this model," says Adam Sorensen, a compensation and benefits expert at WorldatWork, an association of HR executives.
How you can profit
There's no use trying to avoid the inevitable, so get ahead of this curve. Now's the time to think and act entrepreneurially when it comes to your career. So dip a toe in the freelance waters to see what kind of work you can land while you still have your full-time job. Outside projects might include teaching, speaking, or consulting on the side. But be sure to check with your boss about conflicts before you moonlight.
Don't know which of your skills are in demand? Study your own company. See which job functions your employer is farming out. Also, visit various websites that specialize in matching up freelancers with firms. They include: Elance.com, oDesk.com, Sologig.com, and Guru.com.
At the other extreme is starting your own business. If you've ever thought about striking out on your own, now could be a good time to be starting a company, says Ken Morse of the MIT Entrepreneurship Center. Sure, the economy is mired in recession, but rents and equipment are cheap. And Morse points out that with unemployment still rising, there are plenty of highly skilled workers you can hire.
That's not to say that starting a business will be easy, especially with bank lending still tight. That's why Pamela Slim, author of "Escape from Cubicle Nation," suggests starting small. And don't rush to give up your steady paycheck. Surveys show that most entrepreneurs start their businesses while still holding down a full-time job.
Whether you plan to go on your own or not, you have to be prepared for the possibility. So start networking. This means lunching regularly with contacts, going to industry conferences, and spreading the word about projects you come across. Do a favor for a freelancer today, and he or she might return the gesture later.

The downsizing of the U.S. consumer

The demise of the 'ownership society'
The era of new regulation

The return of volatility

Send feedback to Money Magazine
Features

These Fortune 100 employers have at least 350 openings each. What are they looking for in a new hire? More

It would be the world's second-biggest economy. See how big companies' sales stack up against GDP over the past decade. More