Kill TARP, spare the taxpayer
Two members of Congress are looking to wind down the controversial bailout program sooner rather than later. But doing so may be easier said than done.
Bailout tracker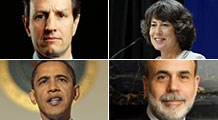 The government is engaged in a far-reaching - and expensive - effort to rescue the economy. Here's how you can keep tabs on the bailouts.
More
NEW YORK (CNNMoney.com) -- For some, the slow, steady demise of TARP cannot happen soon enough.
Last week, 10 of the nation's largest financial firms won their release from the Treasury Department's Troubled Asset Relief Program, setting the stage for them to pay back the billions of dollars the government loaned them last fall.
But this news was book-ended by legislation in the House and Senate that aims to end the controversial program sooner rather than later.
Rep. Jeb Hensarling, R-Texas, whose proposal would effectively shutter TARP by year's end, would prevent the Treasury Department from using any of the TARP money returned by banks to lend back out to other struggling firms.
A much bolder approach unveiled Thursday by Sen. John Thune, R-S.D., would require the government to sell its ownership interests by July 2010. It would also prevent the government from owning a piece of any U.S. company in the future.
"I can't tell you how many people in my state, as I traveled, are now coming up unsolicited, very concerned about the increasing intervention of the federal government into the private marketplace and the implications that that has for our economy," Thune said at a press conference Thursday.
When Treasury first unveiled TARP last October, the belief was that the government would maintain its stake in banks and other financial firms through 2012, or at least until the banks were healthy enough to return taxpayer funds.
But TARP's enemies have multiplied as the program has morphed from a vehicle for purchasing toxic loans and securities from banks into a lifeline for all types of ailing companies, including automakers and insurers.
Members of Congress, who begrudgingly approved the program last fall at the behest of regulators, have howled incessantly at its cost and scope.
At the same time, lawmakers and taxpayers have expressed concern about the government acquiring ownership stakes in household name corporations like General Motors (GMGMQ), AIG (AIG, Fortune 500) and Citigroup (C, Fortune 500).
Some fear that the government may have to take a more active role in those firms' day-to-day operations, and there are worries that taxpayers may ultimately end up losing money.
And of course, many banks have decried the various restrictions associated with TARP, such as limits on compensation.
Now that a number of top banks, including JPMorgan Chase (JPM, Fortune 500) and Goldman Sachs (GS, Fortune 500), have raised enough money to buy back the government's preferred shares, lawmakers are anxious to shutter the program.
David John, a senior fellow at the Washington-based Heritage Foundation, said some members of Congress are concerned that any funds returned to the Treasury, as well as TARP money still not allocated, could be used by the Obama administration for future government interventions.
"When it comes down to it, neither the right nor the left is comfortable with this activity," he said.
Right now, less than $80 billion of the $700 billion program remains unallocated. But that number is expected to nearly double after the 10 banks approved to pay back TARP funds last week return an estimated $68 billion.
The Treasury Department, however, has maintained that the returned funds will be applied to the agency's general account so they can be used to help pay down the nation's debt load.
'No simple way out'
But simply shuttering TARP will not be easy, experts said. It may not be the best idea either.
For starters, credible threats to the U.S. economy remain, despite the recent appearance of some encouraging "green shoots."
Deterioration in the credit quality of commercial real estate loans is a big concern. In light of that, one could make the case that keeping some dry powder on hand in TARP would not be a bad idea.
Hensarling, however, is not calling for all the remaining money in TARP to be returned to taxpayers by the end of the year. Under his plan, some money would remain available, particularly for banks that are unable to raise the necessary amount of money mandated by regulators as part of the government's stress tests.
But even if TARP is shut down, the government will still hold massive stakes in GM and AIG, among others, for the foreseeable future.
For this reason, Thune and Sen. John Cornyn, R.-Texas, have proposed the Government Ownership Exit Plan Act, which would require the government to sell its stakes to the private market by no later than July 2010.
Under the legislation, the Treasury Department could extend that deadline by up to one year. And if conditions warranted, the government could maintain its ownership interest in a company beyond that deadline with the approval of Congress.
Brian Gardner, a Washington policy analyst for investment bank Keefe, Bruyette & Woods notes that exiting such investments too soon, however, could force the government into a fire-sale-type situation.
That could mean that taxpayers lose out on potentially big gains if the shares of struggling financial firms eventually bounce back.
After all, many of the most troubled companies are in early stages of restructuring. So it could be several years before any of them could wean themselves off government life support and their stock prices return to the levels they traded at before the financial markets collapsed last fall.
"There is no simple way out," Gardner said. "As well intentioned as the idea may be, ending TARP early could have some pretty negative implications."

Features

These Fortune 100 employers have at least 350 openings each. What are they looking for in a new hire? More

It would be the world's second-biggest economy. See how big companies' sales stack up against GDP over the past decade. More