Obama's forgotten climate agenda
Congress is set to consider an $846 billion climate bill. Supporters say it could save money and the environment, opponents say it's too expensive.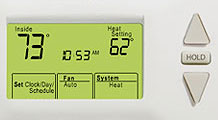 Invest $1,500 in insulation and maintenance and get over twice that in energy savings the first year.
NEW YORK (CNNMoney.com) -- Global warming is back.
Over the last 12 months it seems lawmakers have been preoccupied with other pressing maters: bailing out the banks, saving the automakers, reforming health care.
Global warming, a top-tier issue for much of the presidential campaign, kept a low profile. But that's about to change. The House is set to debate a bill as early as next week that could involve $846 billion over the next 10 years.
In an effort to get the climate change issue back into the spotlight, Deutsche Bank Thursday unveiled a countdown-type clock in midtown Manhattan that measures the tons of greenhouse gases currently accumulating in the atmosphere.
Earlier this week, government scientists at the National Oceanic and Atmospheric Administration said evidence of climate change was already apparent in the United States, and that "the current trend in the emission of greenhouse gas pollution is significantly above the worst-case scenario that this and other reports have considered."
It went on to say that heat waves will become more intense, leading to human health problems and affecting crop and livestock production; water shortage will increase; ocean waters will rise, killing coral reefs and impacting tourism and fisheries; greater outbreaks of insect infestations and wildfires will occur; and rising sea levels will inundate coastal buildings and infrastructure.
If greenhouse gases are not curbed, by 2010 damages from global warming could cost the country $1.8 trillion a year, according to a study by The Natural Resources Defense Council.
This is where the House bill comes in. Known as Waxman-Markey after its two sponsors, Henry Waxman (D-Calif.) and Ed Markey (D-Mass.), the bill attempts to reduce greenhouse gas emissions through a system known as cap-and-trade.
Under a cap and trade plan, the government requires companies emitting large amounts of greenhouse gases to obtain a permit for each ton they emit each year.
Most of these companies are electricity generators, including big industry that generates its own power. The number of permits issued each year is then reduced. As the more limited supply of permits increases their price, companies can either pay to install cleaner equipment, fund carbon-offset projects like tree farms, or buy these permits on a secondary market from other companies that have cleaned up their operations and now have extra permits to sell.
The ultimate goal is to make fossil fuels, the main source of energy and of man-made carbon emissions, more expensive and low carbon technologies like wind, solar and nuclear more competitive.
How this all works is amazingly complex, but so far the bill has the backing of most of the environmental community and many of the big utilities and manufactures being regulated.
What's not at all clear is if the plan will pass Congress, and how much it will all cost.
Under Waxman-Markey, electricity generators will be required to pay for permits to emit carbon dioxide. They will likely pass on most of this cost to consumers.
The Congressional Budget Office estimates that under a hypothetical cap and trade law, this would cost a household an average of $1,600 a year for the first ten years but says the true cost to consumers will likely be significantly lower.
The Waxman-Markey bill pumps much of this money back into the economy and into consumers' pockets. It requires the electricity generators to buy the permits from local utilities, which receive them free from the government, or from the government itself.
Then this money will be used for a host of programs that benefit electricity users including energy efficiency retrofits, tax credits for low income families hard hit by the price increase, and subsidies for the steel, concrete and chemical industries that might suffer from competition with companies in countries that don't have a cap-and-trade law.
The value of this new market is expected to be $846 billion over 10 years, according to the Congressional Budget Office.
Once the various rebates are figured in, the bill is expected to have a net annual cost of $90 to $140 per household, according to an analysis done by the Environmental Protection Agency.
The CBO hasn't done an analysis of the bill factoring in the rebates, but they indicated it would be closer to the EPA's number, not the $1,600.
For some any price increase is too much.
"I don't think it maters what the number is," said Laura Henderson, a spokeswoman for the Institute for Energy Research, which opposes the bill. "We're in a recession. People can't afford an increase in something they need so much."
The bill is bound to face stiff opposition from House members hearing similar concerns from their constituents.
The Democrats themselves are not unified on the issue, as the bill would impose higher costs on regions that use carbon-heavy coal as a fuel for electricity - primarily the industrial Midwest.
Waxman-Markey has a decent chance of passing in the House but will face stiffer opposition in the Senate, according to Whitney Stanco, an energy policy analyst at Concept Capital.
"In a year when we haven't seen much of an economic recovery, going forward with a bill that will raise prices is probably going to be difficult," said Stanco.
But the Obama Administration, which would like at least some domestic progress on cap-and-trade when U.S. negotiators show up in Copenhagen at the end of the year to hammer out a successor to the Kyoto Treaty, will likely keep the pressure on Congress. This is currently being done by a thinly veiled threat to use the EPA to regulate greenhouse gases, a process most observers say would be even costlier than a cap-and-trade plan.
"In our view Congress will likely be compelled to enact greenhouse gas emissions legislation rather than let the EPA regulate," said Stanco, although she said that might not happen until after the 2010 elections.
In the meantime, opponents will continue to use the cost issue to fight the bill, as well as a more ideological approach.
Some, including most economists, say a simple carbon tax would be a more efficient way to reduce greenhouse gases.
Many in the political sphere oppose a cap and trade plan right now because they say the benefits don't outweigh the costs. In short, they don't think global warming won't present as big of a problem as some say, and argue that it will be far cheaper to deal with the issue in the future when the costs of cleaner energy technology falls.
It's not a view shared by most scientists that study the issue.
"Implementing sizable and sustained reductions in carbon dioxide emissions as soon as possible would significantly reduce the pace and the overall amount of climate change," the NOAA report stated, "and would be more effective than reductions of the same size initiated later."

Features

These Fortune 100 employers have at least 350 openings each. What are they looking for in a new hire? More

It would be the world's second-biggest economy. See how big companies' sales stack up against GDP over the past decade. More