Citigroup pumping up paychecks
Bailed out financial giant says it will raise employees' base salaries, but will cut other payments to keep total compensation constant.
Photos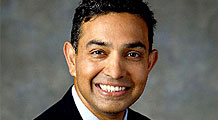 Bailout tracker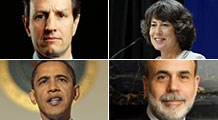 The government is engaged in a far-reaching - and expensive - effort to rescue the economy. Here's how you can keep tabs on the bailouts.
More
NEW YORK (CNNMoney.com) -- Bailed out financial giant Citigroup said Wednesday it is going to the raise base salaries of its employees, although it is not planning to increase their total compensation.
"Retaining and attracting the best talent is very important to the success of Citi and all its stakeholders," said Citigroup, in a statement.
The company insisted that total compensation, however, will remain constant -- indicating that year-end bonuses and other special payments will be cut when pay is raised.
"Any salary adjustments are not intended to increase total annual compensation, rather to adjust the balance between fixed and variable compensation," Citigroup (C, Fortune 500) said.
Citigroup has received $45 billion in funds from the government's Troubled Asset Relief Program, or TARP. The compensation restrictions that come along with the assistance mean that much of the bank's top talent has been leaving.
The Obama administration has made a point of cracking down on excessive compensation.
When the bailed out insurance giant American International Group (AIG, Fortune 500) paid out $165 million in annual bonuses to its employees, the public was outraged and legislators called for the executives to return the bonus cash.
Among the administration's actions to moderate compensation is the naming of a "pay czar," Washington attorney Kenneth Feinberg, who is responsible for approving major expenses for banks, automakers and insurers that took TARP funds.
In the financial industry, compensation is a combination of base salary, stock and option portfolios, and year-end bonuses, which were controversially high in the years leading up to the recent financial crisis.
Citigroup's stock has plummeted in recent months, leaving stock and option packages shriveling.
The Treasury Department has said bonuses paid to senior executives and other highly paid employees at TARP-aided banks can not exceed one-third of their total compensation package.
At banks that have been granted large amounts of bailout funds, the pay czar can review compensation for the top 100 salaried employees. Feinberg will have the authority to deem salaries excessive or inappropriate.
Firms receiving government funds also have to put in place a luxury expenditure policy that requires top executives to get board approval for the purchase of big-ticket items.
Companies fear that if they must abide by such government compensation limitations, they could lose executives.
In addition to Citigroup, Bank of America (BAC, Fortune 500) still holds $45 billion in funds in the TARP program. But 10 large financial firms, including JPMorgan Chase (JPM, Fortune 500) and Goldman Sachs (GS, Fortune 500), have been permitted to pay back TARP funds, freeing them of them of any restrictions to operate under compensation guidelines.
-- CNN's Karina Frayter contributed to this story.

Features

These Fortune 100 employers have at least 350 openings each. What are they looking for in a new hire? More

It would be the world's second-biggest economy. See how big companies' sales stack up against GDP over the past decade. More