Paulson to tell his side of Merrill deal
Former Treasury Secretary has agreed to talk to a House panel about his part in last September's Bank of America-Merrill Lynch merger.
Bailout tracker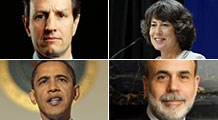 The government is engaged in a far-reaching - and expensive - effort to rescue the economy. Here's how you can keep tabs on the bailouts.
More
WASHINGTON (CNNMoney.com) -- Former Treasury Secretary Henry Paulson will return to Capitol Hill next month to testify before lawmakers investigating the government's role in last fall's Bank of America acquisition of troubled Merrill Lynch.
The House Committee on Oversight and Government Reform Committee said Monday that Paulson would appear on July 16. It would mark his first appearance before Congress since he left office in January.
Lawmakers want to know if the Federal Reserve and Treasury Department overstepped their authority in pushing through the merger. Some have also questioned whether Bank of America (BAC, Fortune 500) may have used the threat of scuttling the deal as a bargaining chip for additional government assistance.
The questions arose as a result of a separate probes by the New York Attorney General's Office and the Special Inspector General for the Troubled Asset Relief Program.
Paulson, 63, has been working as a visiting scholar at Johns Hopkins University's Paul H. Nitze School of Advanced International Studies.
He would be the latest visitor to House Oversight among a string of high-profile officials called to testify about the secret negotiations over Bank of America-Merrill Lynch.
Last week, Federal Reserve Chairman Ben Bernanke denied accusations that he threatened to replace management at Bank of America if it didn't go through with its purchase of Merrill. Earlier, Bank of America Chief Executive Ken Lewis told lawmakers that he felt pressure to go through with the acquisition.
In December, Lewis approached regulators, including Paulson and Bernanke, and threatened to scuttle Bank of America's planned purchase after discovering the scope of Merrill's losses, according to New York Attorney General records.
After behind-the-scenes wrangling, BofA received $20 billion in aid in January on top of $25 billion it received last fall as part of the Troubled Asset Relief Program, or TARP.
The bank also got loss guarantees on $118 billion in assets to help the company absorb its purchase.
E-mails among Federal Reserve officials regarding Bank of America's bid for Merrill that came to light earlier this month suggested that Lewis may have used the threat of scuttling the Merrill deal as a so-called bargaining chip for more government assistance.

Features

These Fortune 100 employers have at least 350 openings each. What are they looking for in a new hire? More

It would be the world's second-biggest economy. See how big companies' sales stack up against GDP over the past decade. More