Why a good education is harder to come by
A quality education equals opportunity, and the former feels increasingly out of reach.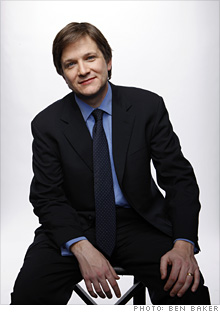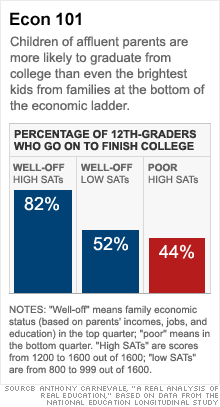 (Money Magazine) -- Last month my wife and I got the word: Our 4-year-old is smart, but she's not cut out to join the Masters of the Universe (Kindergarten Division). Lucy's test scores mean she'll be shut out of our city's coveted "gifted" public schools.
We told ourselves when our daughter took the big exam that we didn't care, that the idea of a genius just out of diapers is ludicrous, and that the notion that schools could test for it is pure pseudoscience. This was like buying a lottery ticket, so we wouldn't get emotional about the result either way.
Of course, we wigged out anyway. Should we have tried flash cards? Hired that $100-an-hour tutor? Should my wife have married someone smarter? A lot of this is just parental ego-tripping, and we've calmed down. But it didn't help that the news came when the economy has us so anxious. We feel as if our kid needs every leg up she can get.
Rationing opportunity
Even before the recession hit, the U.S. economy was starting to look like that scene from Glengarry Glen Ross: First prize is a Caddy, second prize is a set of steak knives ... From 1979 to 2006, the real earnings of the top 10% of households more than doubled, according to the Congressional Budget Office. Meanwhile, earnings for middle-income Americans grew just 21%.
With the difference so great, it's natural -- if not always attractive -- for parents to obsess over each hoop our kids jump through on the way to a good college degree. That diploma gives them a fighting chance at earning power. "Postsecondary education is the system for rationing opportunity," says Anthony Carnevale of Georgetown's Center on Education and the Workforce.
Some of those hoops are getting narrower. As I reported last month, even public colleges are going elite. Binghamton University, the best college deal in our backyard, now accepts just a third of its applicants.
A zero-sum game?
Now for the reality check. My wife and I are college grads, so odds are our kids will do just fine. Family background is a strong predictor of who gets a degree.
That's nothing to celebrate. At right is America's Most Depressing Statistic. It shows that kids with well-off parents but weak SATs have a better shot at a BA than poor kids with high scores. Parents all say we aim to give our kids "every advantage." What we mean (I hope) is that we want to give them the necessary tools -- not that a competitor should have one hand tied behind his back.
Economists debate whether education can cure inequality. For parents, though, it's the thing we have some control over, and it feels as if we're chasing a scarce resource. Does it really have to be a zero-sum game? We worry about government spending that saddles the next generation with debt. But more investment in higher ed could also boost the next generation's prosperity. Expanding education -- letting there be more winners -- can help the economy grow, which is good for us all. Sure beats a set of steak knives.

Send feedback to Money Magazine
Features

These Fortune 100 employers have at least 350 openings each. What are they looking for in a new hire? More

It would be the world's second-biggest economy. See how big companies' sales stack up against GDP over the past decade. More