Cash-poor California turns to IOUs
The Golden State is running short on cash so it is issuing IOUs to some contractors, agencies and taxpayers.
Bailout tracker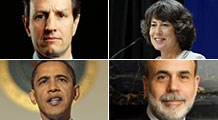 The government is engaged in a far-reaching - and expensive - effort to rescue the economy. Here's how you can keep tabs on the bailouts.
More
301 Moved Permanently
---
nginx
NEW YORK (CNNMoney.com) -- Here come the California IOUs.
Unable to meet its bills for the second time this year, the state started printing IOUs on Thursday. Some 28,750 IOUs worth $53.3 million will be issued initially, mainly for personal income tax refunds.
The IOUs helps the state controller stave off a deficit of nearly $3 billion for July. The state plans to send the IOUs to certain county agencies, small businesses and taxpayers owed billions of dollars.
The state's fiscal condition is disastrous. Officials passed a budget in February, but declining tax revenues have opened up a $26 billion deficit.
Lawmakers and Gov. Arnold Schwarzenegger are locking horns over how to bridge the gap: The governor wants to use deep spending cuts and borrowing, and Senate Democrats are pushing tax increases and less-severe cuts.
Schwarzenegger on Wednesday declared a fiscal emergency, giving the legislature 45 days to address the crisis. He also ordered state workers to take a third furlough day every month.
On Thursday, however, it appeared progress had been made and a deal may be struck within days.
"It's time that we get this done. It's time that we move to a close quickly. It's going to take compromise," said Senate President pro Tem Darrell Steinberg, adding that a tax package proposed earlier by the Democrats is off the table.
The damage, however, is already being done. The IOUs will cost the state millions in interest and could hurt its bond rating. And California residents and businesses won't get paid on time.
"Unfortunately, the state's inability to balance its checkbook will now mean short-changing taxpayers, local governments and small businesses," state Controller John Chiang said last week.
The IOUs can be redeemed at face value, plus 3.75% interest, by Oct. 2 or earlier if a budget deal is signed and the state has enough cash to cover them. Some banks and at least 25 credit unions have agreed to accept the IOUs. Bank of America, Chase, Citi and Wells Fargo have said they would accept the paper through July 10.
The last time the state had to issue IOUs was amid another budget crisis 17 years ago. It had to delay $2.8 billion in payments for five weeks starting in February after the governor and legislators failed to address a $42 billion deficit at that time. The two sides came to an agreement and Schwarzenegger signed it into law on Feb. 20.
Voters delivered a crushing blow to the state finances in May, when they rejected five ballot proposals that would have eased the budget strain.
Things will only get worse if state officials don't come to an agreement soon. The cash shortfall widens to $6.5 billion in September. After then, even IOUs won't be enough, said Hallye Jordan, spokeswoman for the controller. The gap will hit $16.7 billion by October.
Who is affected
To save money for education and debt payments, Chiang plans to withhold $424 million that would go for state operations, primarily to vendors, as well as another $141 million in payments to small businesses.
Nearly $200 million in personal income and corporate tax payments would be delayed. Regional centers that provide services to those with developmental disabilities would get IOUs instead of $363 million, while the CalWorks welfare program wouldn't get $495 million right away.
The IOUs can have devastating effects on residents and companies, particularly small businesses.

Gloria Freeman runs Staff USA, which supplies medical staff for state prisons and other facilities. State contracts represent 80% of her business.
"I have already laid off 5 employees in preparation for IOUs," Freeman said in a statement Wednesday.
Ratings watch
The budget crisis is also hurting California's bond ratings, making it more expensive for it to borrow short-term and long-term.
"Because of the threat of IOUs, when we do short-term borrowing, it's going to be a lot more expensive for taxpayers," said Tom Dresslar, spokesman for Treasurer Bill Lockyer.
In May, the treasurer had asked the Obama administration to back its short-term borrowing using funds from the Troubled Asset Relief Program, which has bailed out the nation's banks and car companies. Federal officials turned him down and the state is no longer seeking help, Dresslar said.
And they won't get it. White House Press Secretary Robert Gibbs Wednesday said that the Obama administration is helping California by providing stimulus funds.
"The major contribution from the federal government has been an increase in Medicaid and education money to go to helping to close some of those fiscal gaps," Gibbs said.
The state's long-term bond rating is in jeopardy, as well. It already has the worst credit rating in the nation.
Fitch Ratings last week downgraded the state's long-term general obligation bonds to A-, from A, and placed them on a negative ratings watch, signaling the company's concern about California's ability to solve its liquidity crisis.
Moody's and Standard & Poor's also have the state on negative rating watches, meaning downgrades are possible.
The state, however, is not at risk of defaulting on its debt payments, Dresslar said.
"It won't happen," he said.

Features

These Fortune 100 employers have at least 350 openings each. What are they looking for in a new hire? More

It would be the world's second-biggest economy. See how big companies' sales stack up against GDP over the past decade. More