Will Bernanke keep his job?
Obama will have to make a big decision: Whether to reappoint the Fed chair. Bernanke has detractors on the Hill. Right now at least, odds are he'll hang on.
Bailout tracker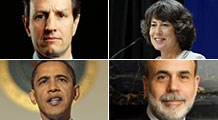 The government is engaged in a far-reaching - and expensive - effort to rescue the economy. Here's how you can keep tabs on the bailouts.
More
301 Moved Permanently
---
nginx
WASHINGTON (CNNMoney.com) -- In the next six months, President Obama faces one of his biggest and most important decisions about the economy.
Should Federal Reserve Chairman Ben Bernanke keep his job?
Bernanke's term comes to an end on Jan. 31. Obama will either reappoint or replace him. And the president has been coy about his leanings.
Last month, Obama offered a strong defense of Bernanke, saying he has done a "fine job." At the same time, Obama acknowledged that the Fed had missed key aspects of the financial crisis, saying it "didn't do everything that needed to be done."
As the nation slogs through the recession -- now in its 20th month -- the role of the central bank's chief has never been more important.
The Fed is charged with examining bank soundness, as well as checking the cost and availability of money and credit in the economy. Lately, given the more than $1 trillion the Fed has printed to get the markets moving, there's a renewed focus on watching for signs of inflation.
The role of chairman could take on even greater significance next year, as the Fed could get broader powers. Congress is on the verge of reshaping the Fed as the primary regulator of giant interconnected financial institutions.
Bankers, economists and Fed watchers started speculating about Bernanke's future the moment Obama got elected last fall. Washington insiders assumed that the new president's top economic adviser, Larry Summers, was primed for the job.
Now the question of whether Bernanke will keep his job is more of a toss-up, but leaning toward Bernanke's favor, experts say.
"What he didn't have going for him is that the economy collapsed while he was chairman, but the economy seems to have stabilized while he's been chairman," said Julian Zelizer, a professor of history and public affairs at Princeton University. "It's easy to look at him and say he's part of the team that's bringing stability to the economy."
Tested under fire
The Fed chairman serves a four-year term and is confirmed by the Senate. The chair also serves a 14-year term on the seven-member Federal Reserve Board of Governors.
While Bernanke's chairmanship ends next January, his board term ends Jan. 31, 2020. So even if he's replaced he could still have a say on policy by remaining on the board.
Over the past three decades, the country has had only three Fed chairmen. New presidents have tended to keep Fed chiefs in place regardless of political party to maintain continuity in monetary policy and confidence in the markets.
Paul Volcker was appointed by President Carter in 1979 and retained by President Reagan. Alan Greenspan, a 1987 Reagan appointee, served under four presidents including President Clinton.
Bernanke, 55, was appointed to the top job in 2006 by President Bush, after serving as Bush's chair of the Council of Economic Advisers. Considered an expert on the Great Depression, Bernanke previously chaired the economics department at Princeton University. He also did a three-year stint on the Fed's board of governors ending in 2005.
The rumors that Bernanke was headed for the chopping block started last November. In a nationally-televised press conference, Obama announced his economic team, touting their experience and accomplishments. But he didn't breathe Bernanke's name -- a glaring omission, some said at the time.
But the assumption that Obama would not keep Bernanke has changed.
By tripling the size of the Fed's balance sheet while cutting interest rates to basically zero, the Fed has been helping the administration in its goals of spurring economic growth, said Dan Clifton, head of policy research at Strategas Research Partners.
"Clearly Obama had his sights on putting his own guy there on Jan. 31, but Obama got into a lot of trouble," Clifton said, ranging from a sputtering economy to populist furor over bonuses paid to those in the troubled unit of bailed-out insurer AIG. "Bernanke has been carrying the water for the administration."
Even as the unemployment rate continues to worsen, there are other signs of a stabilizing economy. And that bodes well for Bernanke, noted Alice Rivlin, who served as Fed vice chairwoman from 1996 to 1999.
Rivlin rates Bernanke's re-appointment chances as "high."
"He's widely thought to be doing a good job under very difficult circumstances," Rivlin said. "Bernanke has been tested in the most difficult time for a central banker in a couple of generations."
Battles with Congress
Last month was a tough one for Bernanke. On Capitol Hill, he was grilled on his role in the Bank of America takeover of Merrill Lynch. Some bank officials have said they felt Bernanke bullied them to go through with the merger last year at the height of the banking crisis.
Republicans, in particular, have taken up the battle cry against Bernanke. Rep. Darrell Issa, R-Calif, has accused the Fed of a "cover-up" for its actions in the BofA-Merrill deal.
Washington analyst Brian Gardner of investment firm KBW said the recent political firestorm could give the White House political cover, "opening the door for the administration to put their own person in there," he said.
"The administration probably would have wanted to avoid a fight on this, but they're getting the sense that Republicans would not object" to replacing Bernanke, Gardner said.
If Bernanke is reappointed, he'd have to go through the confirmation process again and face senators, some of whom have been quite critical of his performance.
Top Senate Democrats have joined Republicans in questioning the Fed's role in missing key symptoms of the financial crisis and have pushed back against the idea of giving it more regulatory power.
Late last month, Banking Committee Chairman Sen. Chris Dodd, D-Conn., re-emphasized his skeptical view. He quoted a Boston University professor who had compared strengthening the Fed's powers to "a parent giving his son a bigger, faster car right after he crashed the family station wagon."
If reappointed, Bernanke will face a tough confirmation hearing, said Phillip Swagel, a Georgetown University business school professor who served under former Treasury Secretary Henry Paulson.
"They have to blame someone for tough decisions," Swagel said. "There will be a beating, but Bernanke can take that."
A Federal Reserve spokeswoman declined to comment on the question of Bernanke's reappointment.
The speculation about Bernanke -- will he stay or will he be let go -- is not likely to end soon. Intrade.com, the online trading site, tracks bets on the question. Late last week, Intrade rated the chance of keeping his job at 60%.
"Our audience is passionately interested in matters related to economic, financial, political and related issues, and who chairs the Fed next is hugely relevant to millions worldwide," said John Delaney, chief executive of Intrade.
Indeed. Intrade.com is featuring Bernanke's reappointment prominently on its home page -- just below the job prospects of the embattled, lovesick South Carolina Gov. Mark Sanford.

Features

These Fortune 100 employers have at least 350 openings each. What are they looking for in a new hire? More

It would be the world's second-biggest economy. See how big companies' sales stack up against GDP over the past decade. More