5 fraud probes you haven't heard of
Most alleged Ponzi schemers don't reach Madoff-like heights, but millions of dollars are still on the line.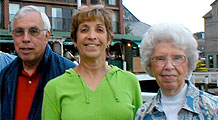 Some people invested everything they had with Bernard Madoff. Now, they have nothing. Here are their stories.
NEW YORK (CNNMoney.com) -- Bernard Madoff may have made headlines as the biggest Ponzi schemer in history, but there are plenty of other cases to share the limelight.
There is no exact dollar figure on how much Madoff bilked his investors, but it's been estimated in the tens of billions. Most other pyramid-style scams are run by mini-Madoffs, most of whom measure their take in the millions.
A Ponzi schemer masquerades as a legitimate money manager, using fresh cash from unsuspecting investors to make payments to more mature investors, which creates the false appearance of legitimate returns. Some promise annual returns as high as 80%.
"You see a whole range: some of them start small and build over time; some of them have got a good story and they get huge investments," said David Nahmias, U.S. Attorney in the northern district of Georgia, who has prosecuted Ponzi scams. "A lot of these schemes start with trusted people. If you see someone investing their family's money, or their church's money, then it's someone you're more likely to trust."
Here are some of the alleged Ponzi cases currently making their way through federal courtrooms across the country:
Steinger and alleged accomplices, $1.25 billion, Florida
In late 2008, the U.S. attorney for the Southern District of Florida indicted four defendants in one of the largest alleged Ponzi schemes in recent history.
Joel Steinger, a white-collar ex-con and accused ringleader, his brother Steven Steiner and two lawyers, Michael McNerney and Anthony Livoti, are accused of ripping off 30,000 investors in an elaborate life insurance scam through Fort Lauderdale-based Mutual Benefits Corp., which was shut down. All pleaded not guilty, and the case is ongoing.
"The government is simply overreaching in this case," said Jose Quinon, attorney for McNerney. "He's totally innocent of the charges in this case."
Livoti's lawyer, Joel Hirschorn, said there was no Ponzi scheme and that his client committed no crime. Steinger's lawyer Ed Shohat declined to comment. Steiner's lawyer, Richard Lubin, was unavailable.
Nicholas Cosmo, $370 million, New York
Another Ponzi scheme was allegedly perpetrated by Nicholas Cosmo, owner of two funds, Agape World, Inc. and Agape Merchant Advance, LLC, in Hauppauge, New York. Cosmo promised his 1,500 investors annual returns of up to 80%, according to the U.S. Attorney in the Eastern District of New York, who called the offer "too good to be true." Cosmo was charged with stealing -- not investing - hundreds of millions of dollars.
Robert Nardoza, spokesman for the U.S. Attorney's office, said that Cosmo pleaded not guilty and is incarcerated because he has not met bail conditions. Phone messages to Cosmo's lawyer were not returned.
Anthony Demasi, $4.7 million, Illinois
Anthony Demasi of Tsunami Capital LLC, a trader in commodity futures, allegedly told investors that one of his trading pools made a profit of 172% -- an astronomical claim by any standard. In reality, the pool had no profit at all and was part of a multi-million dollar Ponzi scheme, according to the U.S. Attorney's office in the Northern District of Illinois. The feds say that Demasi poured much of the money into his Chicago nightclubs and blew the rest on gambling.
Randall Sanborn, spokesman for the U.S. Attorney in Chicago, said Demasi pleaded not guilty and is free on bail but under home confinement. A court hearing is set for Sept. 9. Messages to Demasi's lawyer were not returned.
Anthony Vassallo, $40 million, California
At the age of 29, Anthony Vassallo is unusually young for a Ponzi defendant. In March, the federal authorities charged him with stealing $40 million from 150 investors -- many of whom he met in church. He allegedly spent his take on a $103,000 Lexus and a $24,000 donation to the Church of Jesus Christ of Latter-Day Saints in Folsom.
But Vassallo pleaded not guilty and is currently out on bail, which was posted by family members, according to the U.S. Attorney's office in Sacramento. He is due back in court on July 17 for a status report. A spokeswoman for Blackmon & Associates, the law firm representing Vassallo, declined to comment.
James Ossie, $25 million, Georgia
The U.S. Attorney's office in Atlanta charged James Ossie, founder of CRE Capital, Inc., in March with running a fast-moving but short-lived Ponzi scheme.
Ossie stole $25 million in nine months, according to the feds, who said he offered high-end investment contracts, starting at $100,000 each, and guaranteed return of the deposit with 10% interest in 30 days. But according to the U.S. Attorney's office, Ossie lost the money almost as quickly, and had only $2 million left when the scam came to an end.
Ossie pleaded guilty on May 21 and is scheduled to be sentenced on July 30, according to the U.S. Attorney's office, which said he had been indicted on 10 counts of wire fraud. According to the firm representing him, Steel Law, he pleaded guilty to one of those counts.
David Nahmias, the U.S. Attorney who indicted Ossie, said the Ponzi scammer's worst enemy is the recession.
"The economic situation kind of exposed a number of them, both because investors are asking for their money back, which tends to make Ponzi schemes fall apart, and I think investors are becoming more skeptical of claims of outrageous returns," he said.
Talkback: Are you living on minimum wage? What would the nationwide hike to $7.25/hour mean for you? Is the minimum wage enough to live on? E-mail us your story and you could be part of an upcoming article. For the CNNMoney.com Comment Policy, click here.

Features

These Fortune 100 employers have at least 350 openings each. What are they looking for in a new hire? More

It would be the world's second-biggest economy. See how big companies' sales stack up against GDP over the past decade. More