Rally's new tune: Don't worry, be happy
Happy days appear to be here again on Wall Street. And while some optimism is warranted, investors need to be wary when the market's ignoring caution signs.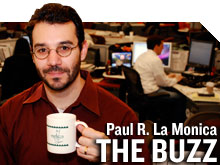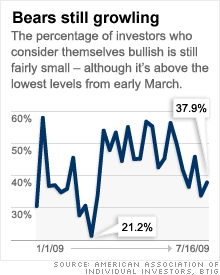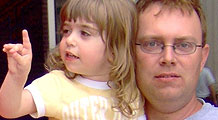 Conflicting economic data show either the beginning of an economic recovery or a worsening recession. These CNNMoney.com readers are using their own leading indicators.
NEW YORK (CNNMoney.com) -- Call it the Bobby McFerrin market. Investors are no longer worried. They're happy.
All those concerns about the economy heading into July seem to have subsided for now. The S&P 500 surged 7% last week and was up again Monday on reports that troubled business lender CIT Group (CIT, Fortune 500) was about to get a short-term lifeline to keep it from bankruptcy.
The S&P 500 finished Monday above 950 -- its highest point of the year and the first time above that level since November.
So is this Christmas in July rally really an indication that investors are sensing the worst is over for the markets and the economy?
Mike O'Rourke, chief market strategist with BTIG, an institutional brokerage firm in New York, thinks the rally could continue. He notes that a lot of investors who remain unconvinced about an economic recovery are left with no choice but to buy stocks as the market heads higher or they'll be left behind.
O'Rourke pointed to the fact that the weekly level of investor sentiment from the American Association of Individual Investors showed that the percentage of people considering them bullish, while up from the nearly two-decade low set in early March, is still a relatively low 38%.
As such, O'Rourke said he would not be surprised if stocks gained another 20% or so from current levels.
"I still get a lot of negative feedback from people about the market. There still is a lot of bearish sentiment out there," he said. "But that means a lot of people are being forced to play catch-up and chase performance."
But at the end of the day, sentiment is going to be fueled by corporate profits and economic data. Bulls could morph back into bears in a heartbeat if the numbers start to look ugly again.
Talkback: Do you feel more confident about the economy than you did four months ago? Leave your comments at the bottom of this story.
Investors celebrated healthy earnings from a slew of banks and tech companies last week, and investors are hoping for more of the same once some other big blue chips, including Apple (AAPL, Fortune 500), Coca-Cola (KO, Fortune 500), Microsoft (MSFT, Fortune 500) and Wells Fargo (WFC, Fortune 500), report their latest quarterly results this week.
In addition, there were some encouraging macroeconomic signs last week, most notably a much bigger-than-expected drop in weekly jobless claims to their lowest level since early January. So Wall Street will be watching closely this Thursday to see if claims dip again, or if last week's report was a fluke.
"We are still in a battle between the economic bulls and the skeptics. Last week, the bulls got the upper hand," said David Joy, chief market strategist with RiverSource Investments, a money management firm based in Minneapolis. "That's encouraging but this market is still jittery. A couple of bad data points could take stocks down even though the evidence is building toward an economic recovery."
Be optimistic, but realistic
While this may be a good time for some guarded optimism, investors shouldn't ignore some of the big risks that remain. CIT may be getting a private "bailout," but the fact that it came thisclose to collapsing shows that there are still some ticking time bombs in the financial sector.
Corporate profits also need to be scrutinized more closely. While many companies did post better-than-expected earnings, a fair number of companies did so thanks to lower expenses, not increased demand for their products.
"A lot of the better earnings results were due to cost-cutting. That suggests that businesses are stabilizing, not that they are getting better," said Bruce McCain, chief investment strategist at Key Private Bank in Cleveland. "Companies are on the fence about expanding their businesses since they want evidence that the consumer will come back and sales are going to flow again."
Joy said that investors have been willing to tolerate declining sales in this quarter but that won't be the case in the latter half of the year. If this really is an economic recovery, the market will want to see companies reporting increased revenue.
"Everybody knows the economy is not yet robust. So you can't fault for companies for reporting no top line growth this quarter," Joy said. "Investors won't have continued patience for a lack of sales growth though. They won't be as forgiving in the third and fourth quarter."
Watch out for inflation
But many feel the consumer may not come back until there are concrete signs that the job market is improving. So that creates a conundrum for many businesses.
Companies can continue to lay off people -- or hold off on hiring new workers -- to meet profit targets. But by doing so, they just make matters worse for consumers and could make it that much more difficult for a sustainable recovery to unfold.
"If companies are still looking to cut operating expenses, they are not going to be doing a lot of hiring," said Romeo Dator, manager of the U.S. Global Investors All American Equity fund in San Antonio. "And in an economy that's based on consumption, if you don't have job growth that's going to be a problem."
Inflation hawks are squawking rather loudly as well. The dollar continues to weaken against the euro and other global currencies. The yield on the 10-year Treasury is inching back toward 3.75% and the price of gold is hovering around $950 an ounce.
And as countries around the globe seek to stimulate their way out of this worldwide recession, Dator thinks inflation is inevitable. For that reason, he said he's more interested in investing in energy and basic materials companies and less so in banks, technology and consumer stocks.
McCain also said inflation could be a concern over the next year, but he thinks that investors will probably overlook some of the warning signs for now. That might not last forever though.
"I'm pretty confident about the potential for this rally lasting up until the early part of next year, but worried about long-term growth being hobbled enough that the economy could sink back later next year," he said. "Investors may need to have a well-defined exit strategy if things start to fade."
In other words, it's OK to feel more optimistic. But keep an eye out for any potholes on what's certain to be a long road to recovery.
Talkback: Do you feel more confident about the economy than you did four months ago?

Features

These Fortune 100 employers have at least 350 openings each. What are they looking for in a new hire? More

It would be the world's second-biggest economy. See how big companies' sales stack up against GDP over the past decade. More