Bailout risk: $23.7 trillion? More like $3 trillion
TARP's overseer has struck a chord with his estimate that the government has committed $23.7 trillion to rescue the economy. Here's what's at risk.
Bailout tracker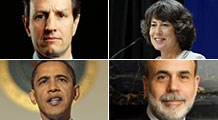 The government is engaged in a far-reaching - and expensive - effort to rescue the economy. Here's how you can keep tabs on the bailouts.
More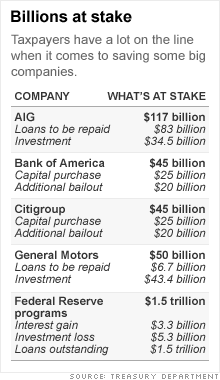 NEW YORK (CNNMoney.com) -- The independent overseer of the $700 billion bailout has caused a ruckus over an important question: How much do taxpayers have on the line?
Neil Barofsky, the special inspector general overseeing the Troubled Asset Relief Program, said the total amount committed for federal programs supporting companies, industries and consumers affected by the economic meltdown was $23.7 trillion.
Lawmakers seized on the number as evidence that the government rescues are a runaway train. Treasury Department officials shot back that the number was overblown.
To be sure, the federal government is taking unprecedented -- and expensive -- measures to address the financial crisis and salvage the economy.
Make no mistake: Taxpayers have a lot of skin in this game. But just how much?
The actual amount taxpayers have on the line is much, much less than $23.7 trillion.
In an interview with CNNMoney on Wednesday, Barofsky said the actual amount of money outstanding is closer to $3 trillion.
Barofsky's math wasn't wrong. It's just that the $23.7 trillion figure assumes that all government rescue programs are used to their full extent and suffered total losses.
"We took a look at all these different programs ... based on what the government said it is willing to commit to," Barofsky said in the interview. "This doesn't mean the taxpayer is on the hook today for $23.7 trillion."
In the end, all estimates about how much taxpayers ultimately have at risk is a mind-melting exercise. But here are some facts about the government rescue investments and bailout programs.
AIG: Taxpayers have given the troubled insurer $117.5 billion since it nearly collapsed in September.
Of that, $83 billion is in direct loans to the company, and AIG (AIG, Fortune 500) can borrow up to $30 billion more. In late June, outgoing CEO Edward Liddy said there was an "excellent chance" the company could pay back its loan to the taxpayers, and reiterated the company's payback timeline of three to five years.
The other $34.5 billion is in toxic assets that the New York Federal Reserve purchased from the company in exchange for the forgiveness of a $38 billion loan. The Fed actually purchased close to $50 billion in assets, but the value of those assets has since plummeted. The Fed said they lost $4.9 billion in value in the first quarter alone.
To end up in the black, the government needs AIG to repay its loans and sell its assets for at least as much as what the Fed originally paid.
Automakers: The government has lent General Motors, Chrysler, GMAC and the now defunct Chrysler Financial just less than $80 billion.
So far, $2.1 billion has been repaid.
But the vast majority of those loans will likely never get paid back. That's because U.S. taxpayers took large stakes in GM and Chrysler in exchange for forgiveness of large portions of the loans.
The government has given GM $50 billion -- $6.7 billion of which the company must pay back. The automaker has stated that it hopes to do that before the 2015 deadline. The Treasury agreed to convert the other $43.3 billion into GM equity, so the government's ability to recover its investment will depend on the future market value of that stake. GM's stock is not expected to trade publicly until 2010 at the earliest.
Chrysler still owes about $8 billion of its $15.2 billion federal loan. Like with GM, the government is banking on the value of its stake in Chrysler rising down the road.
Bank bailouts: U.S. taxpayers have given 534 financial institutions $204.2 billion in capital injections, of which $70.2 billion has been paid back.
Banks are eager to pay back their bailout dollars, as public scrutiny has grown about the inner workings of bailed-out banks, including executive compensation packages, lending decisions and earnings. Furthermore, bailed-out banks have to pay the government hefty dividends.
The money was supposed to go to healthy financial institutions, but the health of some of those banks, namely Citigroup (C, Fortune 500) and Bank of America (BAC, Fortune 500), has since worsened. They had to get bailed out again. They have yet to pay back the $45 billion they each owe taxpayers.
One of the hundreds of TARP recipients has been in the news of late: Troubled commercial lender CIT Group, which warned in a government filing Tuesday that it could be forced to declare bankruptcy if it can't strike a deal with private lenders. Taxpayers have $2.3 billion at stake.
Federal Reserve programs: The Fed has created more than $6 trillion in programs aimed at restoring liquidity to banks, about $1.5 trillion of which has been used so far.
The majority of the programs charge financial institutions interest for using the facilities, and the Fed actually made money on those programs, taking in $3.3 billion in interest payments in the first quarter. Many of those programs are set to end in October, and others will end early next year.
But some programs won't be paid back at all. Like AIG, the Fed invested $29 billion in some of the failed Bear Stearns' assets that are now worth $26 billion.
And through its conservatorship of mortgage finance giants Fannie Mae (FNM, Fortune 500) and Freddie Mac (FRE, Fortune 500), the Fed has given the companies $85 billion of a possible $400 billion bailout. That money is not expected to be returned.
How has President Obama's $787 billion stimulus program affected you or your community? Are you seeing a benefit from the Making Work Pay tax cuts or the additional $25 in unemployment benefits? Are you seeing construction jobs or other stimulus-funded work in your neighborhood? Do you still have a job because of stimulus funds? We want to hear your experiences. E-mail your story to realstories@cnnmoney.comand you could be part of an upcoming article. For the CNNMoney.com Comment Policy, click here.

Features

These Fortune 100 employers have at least 350 openings each. What are they looking for in a new hire? More

It would be the world's second-biggest economy. See how big companies' sales stack up against GDP over the past decade. More