How we got a loan
As banks clamp down, small businesses are struggling to find the loans and credit lines they need. Here's how one company got the financing it needed to grow.
Photos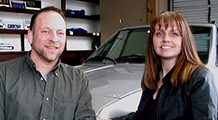 (CNNMoney.com) -- Matthew and Marnie Brannon, co-owners of Midwest Fiat in Columbus, Ohio, have run their vintage Italian car parts and service shop for five years. Late last year, they were offered the chance to buy a competitor and expand their business -- but no bank would lend them the money to do it.
After a grueling six months of hacking through red tape and warding off scam lenders, the Brannons finally got their financing. Here's how they did it.
December 2008: We had been interested in acquiring a Georgia-based Fiat parts company for months. Between Christmas and the New Year, the owners of that company offered us a purchase price on terms we liked. But the offer, they said, would expire in 90 days.
We got to work right away, running the numbers for their company and ours, locating a property in our area that would support a much larger company, and putting together a presentation for lenders. The binder we assembled was 300 pages, opening with our elevator pitch. We also included a PowerPoint presentation on our business, spreadsheets full of our company and personal financial data, and a detailed financial forecast. We knew we'd need to borrow about $110,000 to both make the purchase and operate the business for the first few months after the deal.
February 2009: Our first major mistake was assuming that the loan process would be as easy as getting a mortgage. We thought it would be quick, because we were so well-prepared.
We approached one bank at a time, waiting weeks in between each for an answer. Every time, the result was the same: A loan officer explaining that although our presentation was the best they'd seen, they weren't willing to work with us.
March: The deadline was looming. After being rejected by three banks, we e-mailed the company in Georgia to explain that we were working very diligently to secure lending, in the hopes that they'd keep the offer on the table. Then we took a shotgun approach and sent the binder to two more banks at once. One rejected us, but the other took interest. We went in for a meeting and the loan officer said he could try to get us a Small Business Administration (SBA) loan.
At the very end of the month, CNNMoney.com interviewed us and ran a story describing our situation.
April: About 30 individuals contacted us following that story claiming to be able to help us. Some emailed, some called. But none were known, reputable lenders. For starters, they came from far and wide. Why would we want to work with someone from Nevada or L.A.? And also, their means of getting us money -- from a reverse mortgage on our house to attaching liens to our merchant services -- were too unconventional for our tastes.
As far as we could tell, they were all snake oil salesmen -- with the exception of one guy from Columbus who facilitates loans and financing at much larger companies. He had connections at a bank that he thought would be interested in our business. He wanted to meet for lunch to discuss -- no strings or personal involvement attached.
It's beyond us why he took the time to introduce himself, but we were thrilled that he did. After a lunch meeting, where we of course presented our trusty binder, he pulled out his phone. It took only one phone call for us to get our foot in the door at a commercial financing institution in Columbus. It was a small lender that had been around for five years or so, but we hadn't heard of it before.
They were much more responsive to us, and moved faster, than any other potential lender that we'd talked with. The rest of the month was full of meetings. We filled out paperwork and answered detailed questions from the lender. The loan officer even came by our shop to survey how we operate. We always made sure that when there was a request for a document, we got it to him immediately.
May: We got written and verbal approval for the loan on May 5. The company we wanted to buy was still game to move forward with the sale, but because it had been so long since the original offer, we had to go back and renegotiate for the inventory -- they'd kept selling while we were hunting for the financing, so what remained for us to buy had changed.
The owners pushed back and were reluctant to update their profit and loss statements. That delayed the process. Plus, a number of new searches had to be done to ensure our potential acquisition didn't have any outstanding debts.
The following six weeks was the most gut-wrenching period for us. All the pieces hung in a delicate balance.
The bank kept asking us when we were ready to close. The other bank, the one that was working on an SBA-based solution, contacted us mid-May to announce approval as well, and also began asking when we were ready to sign. We had to finalize the sales contract by gently marshalling all of the stakeholders -- the sellers, counsel on both sides, accountants, and so on --- some of whom seemed to have little sense of urgency. Because of the delays, we had to continue paying non-refundable deposits on the property for the new warehouse, while persuading the landlord that we were close to sealing the deal. We also needed to line up new insurance policies and perform lien searches to satisfy the lenders.
We worried that if any of the main components -- the sales contract, the loan, or the property -- fell through, all our work would have been for naught.
Finally, the sale was completed.
June: As we prepared the loan documents, the bank's lending officers were wringing their hands over the collateralization. In the end, everything but our wedding rings was on the line, from our properties to our life insurance. Our friends thought we were crazy, but we decided to take the leap.
On June 22, we signed on the dotted line and got a loan that would both cover the purchase and carry us through our nascent months.
Oh, and that day we were finally able to withdraw our application from the bank that had expressed an interest in giving us an SBA loan in March. We had kept it open as a backup option in case our current deal went kablooey.
July: Our epic journey hasn't ended -- it has just begun.
As tired as we are, we're running on adrenaline to get the shop up on its feet. We just finished transferring inventory from Georgia to Ohio. In a few days, we'll be hiring two new employees, and we plan to add another three by the end of the year. We also plan on making our Web site more professional to reflect our new company.
Our friends who doubted us now rethink our decisions when they see the sheer amount of stuff we have and the new, amazing space. They finally see the vision that we had all along.

To write a note to the editor about this article,
click here
.