Small businesses are struggling to find banks willing to lend. Here's how - and where - 6 entrepreneurs got the loans and credit lines they need.
Cats and dogs: Recession proof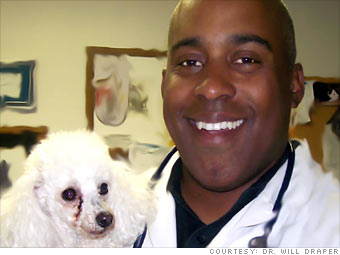 Borrower:
Will Draper
Owner,
The Village Vets
Decatur, Ga.
Lender: Live Oak Bank
Lending volume: Live Oak sourced SBA loans for other banks until May 2008, when it received its charter to operate as an independent bank. Since then, it has originated more than 100 loans totaling approximately $133 million.
Their story: With nearly 10 years of experience under his belt, Dr. Will Draper opened his own veterinary office in Decatur in 2001. Years later, he launched a second office 20 miles down the road in Lilburn. He grew both businesses under the name "The Village Vets" and kept expanding - until 2007, when he realized that he needed a bigger place.
Envisioning a state-of-the-art animal hospital with an emergency room and three times more space, he sought a loan from Live Oak Bank, a newly founded bank in Wilmington, N.C., to build a facility from the ground up.
"I had interviewed a bunch of different lenders, but when I found Live Oak, they offered to come to us rather than us going to them," says Draper. "I like the no-nonsense approach and the wealth of knowledge they had about vets."
That knowledge comes from Live Oak's niche lending segment: veterinarians. "Right now, we're a one-trick pony. It's recession-proof because people view pets as non-discretionary expenses," says Chip Mahan, Live Oak's chief founder. "We didn't choose that segment because of the economy, but because we liked that vets are diligent."
Draper got a Small Business Administration-backed loan in September 2007 from Live Oak to move into the new facility, but he quickly realized he needed more help. His client base jumped 40%; startled by the growth, he struggled to manage the new cash flow. "We needed to hire more people, and also, I had expenses from vendors because I went overboard in ordering things," he recalls. "So I called [Live Oak] and said my bills were out of whack and their response was 'Let's get it under control before it becomes a problem.'"
In January 2009, Draper got another $200,000 loan from the bank, plus some free coaching. "They showed me what I needed to work on with payroll and other expenses and put out suggestions as to how to do it," he says. "After the loan, they flew down and had me show them what I had learned from the mistakes so that it wouldn't happen again next year. They never made me feel bad about approaching them again, but instead made me feel that they really want me to be successful."
Mahan wants that level of service to become Live Oak's hallmark - and its competitive advantage in wooing borrowers. "This is the time to separate the men from the boys," he says. "When others are pulling bank, we've doubled our staff in the last six months. We are 100% ahead of our original projections."
NEXT: A new lease on life