No profits? Here's a fat bonus!
Citi and Merrill Lynch paid big bonuses despite losing money last year while fellow TARP recipients Goldman and JPMorgan paid more than they earned.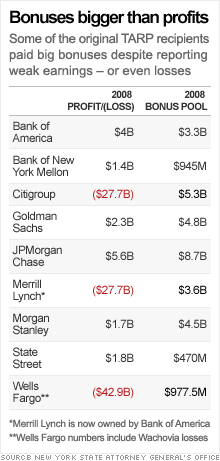 NEW YORK (CNNMoney.com) -- Even as top banks delivered abysmal performances last year, they still managed to pay out billions of dollars employee bonuses, according to a study published Thursday by New York Attorney General Andrew Cuomo.
In an analysis of compensation practices of the original nine banks that received money under the Troubled Asset Relief Program, or TARP, most financial firms paid out compensation that was nowhere close to their overall yearly performance.
Citigroup (C, Fortune 500), for example, which suffered more than $27 billion worth of losses in 2008, paid an estimated $5.33 billion worth of bonuses last year, according to Cuomo's report. Citigroup has been one of the biggest recipients of government aid, taking in $45 billion in TARP funds. Taxpayers now own a third of the bank.
Several banks that were profitable last year paid out bonuses that were substantially higher than what they earned. Goldman Sachs (GS, Fortune 500), which has come under significant scrutiny recently over this year's bonus pool, paid out some $4.8 billion in bonuses despite earning just $2.3 billion. The company collected $10 billion under the TARP program but has since paid it back.
JPMorgan Chase (JPM, Fortune 500) and Morgan Stanley (MS, Fortune 500) also issued bonuses last year that exceeded their annual profits in 2008.
"When the banks did well, their employees were paid well. When the banks did poorly, their employees were paid well," said Cuomo. "And when the banks did very poorly, they were bailed out by taxpayers and their employees were still paid well."
Profits earned by those banks, of course, are calculated after the companies paid out bonuses, salaries and various other expenses. Financial firms have long maintained that the complex nature of their business warrants competitive compensation packages to attract and retain top talent.
Thursday's report, which followed nine months of investigation into the compensation practices in the U.S. banking industry, heaped blame for the phenomenon on a variety of causes. One contributing factor, it noted, was the common practice among financial firms of "poaching" one another's employees, as well as a culture at banks that workers would continue to receive sizeable bonuses no matter the firm's performance.
In light of that, management had, in some instances, no choice but to continue rewarding employees, even if their divisions lost money, the report suggested.
One such example of this was Merrill Lynch. In testimony before Cuomo's office, John Finnegan, the former head of the firm's compensation committee acknowledged that Merrill broke from its typical practice of setting bonuses based on overall revenue in 2007 after it suffered significant losses one division of the company.
The risk, Finnegan hinted, was lower morale, not to mention jeopardizing the firm's long-term health.
"What these statistics portray is an ad hoc system that does not come close to meeting the goal of having employees share in the upside and the downside of their firm's performance," the report said.
Since last fall, however, many large banks and Wall Street firms have attempted to do a better job of tying pay to performance.
Both Goldman Sachs and Morgan Stanley declared plans earlier this year to reward a larger portion of annual bonuses in the form of stock instead of cash, since changes in the stock price would more closely mirror the firms' overall performance.
The use of so-called "clawback" provisions, which would reclaim pay from workers whose actions may damage the firm's long-term financial health, is another proposal that has gained momentum recently.
What seems certain however, is that the topic of bonuses, and corporate pay packages for the financial services industry, is unlikely to fade from the spotlight anytime soon.
On Thursday, Rep. Edolphus Towns, D-N.Y., announced that the House Committee on Oversight and Government Reform Chairman will hold a hearing in September to review how executive pay restrictions are being implemented by bailout recipients.
And earlier this week, the House Financial Services Committee voted in favor of legislation that would require that all publicly traded companies give shareholders a "say" on executive pay packages.
Talkback: Should the government crack down even more on Wall Street bonuses? Share your comments below.

Features

These Fortune 100 employers have at least 350 openings each. What are they looking for in a new hire? More

It would be the world's second-biggest economy. See how big companies' sales stack up against GDP over the past decade. More