Stimulus: What's been spent, what hasn't
The Recovery Act funds are heading out the door, but the majority of programs have yet to be funded -- just as the Obama administration planned.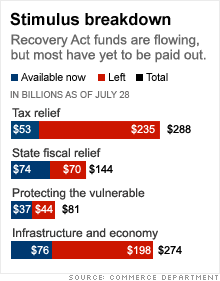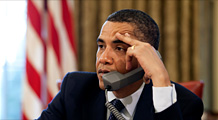 When he became the 44th president on Jan. 20, Barack Obama inherited the worst economic crisis since the Great Depression. After 200 days, here's a look at the progress he's made toward a recovery.
NEW YORK (CNNMoney.com) -- The $787.2 billion stimulus plan is a lightning rod for criticism and second guessing, but love it or hate it, the massive program's funds are flowing as planned.
According to Obama administration figures that date back to July 31, $240.4 billion, or more than 29%, of stimulus funds are now available for use. That's better than the roughly 25% that the Obama administration estimated for the end of July.
Just $120.4 billion, or 15% of the stimulus total, has actually been paid out so far, meeting the administration's expectations that stimulus spending would be about $100 billion per quarter through September 2010.
"Available for use" means that federal agencies have set aside fund for approved stimulus projects.
"Paid out," in many instances, means that federal agencies have given states or contractors the money for projects. It does not necessarily mean that the money has been spent -- most of those figures are not available.
Obama administration officials say the government is on pace, and in some areas ahead of pace, to spend about a quarter of the stimulus funds by the end of 2009 and 70% by the end of 2010. They also stand by their claim that stimulus will have saved or created 750,000 jobs by Sept. 4 -- the 200th day since the bill's passage.
In a speech delivered Thursday, leading administration economist Christina Romer estimated that stimulus saved or created 485,000 jobs in the second quarter and added 2.3 percentage points of growth to GDP.
"The Recovery Act ... is helping to slow the decline and change the trajectory of the economy," Romer said. "It is providing a crucial lift to aggregate demand at a time when the economy needs it most."
Still, there are critics on both sides of the issue: some say the flow of funds is too slow while others say it is too fast. Nevertheless, the current speed is in many instances faster than what the bill ordained.
"The whole reason why we needed to pass the bill right away was because the economy needed it, but we knew the provisions wouldn't be implemented right away," said Dan Clifton, head of policy research at Strategas Research Partners. "The bill put the bulk of the tax relief up front, with most of the spending in back end."
But Romer said that will only help stabilize the economy over the long haul, as she estimated direct investments have a 60% larger effect on the economy than tax cuts.
Here's a closer look at how many key stimulus provisions are playing out.
Tax relief: $288 billion. So far, $53 billion, or 18%, has been doled out.
About half of the tax relief total is the high-profile, $116 billion Making Work Pay tax credit that began appearing in workers' paychecks on April 1. For most working individuals, the credit is being paid through the end of 2010 at roughly $15 per period, assuming 26 pay periods in a year.
And the bulk of retirees, disabled individuals and others who don't work have already received their $250 one-time payments, a plan estimated to cost $14.2 billion.
Also included in the tax relief tranche are some "protecting the vulnerable" measures, such as a $25 billion program to cut Cobra health insurance premiums by 65% for workers laid off between Sept. 1, 2008, and Dec. 31, 2009.
State and local fiscal relief: $144 billion. Just over half, $74 billion, of the state and local fiscal relief allotment has been made available to help state and local governments balance their budgets.
The bulk of this relief is $81 billion in Medicaid grants to states to help defer costs of an increasing number of unemployed Americans seeking Medicaid assistance. Of the $81 billion, $34 billion has been obligated and $24.5 billion of that has been sent to states.
States have also been allocated $34 billion to balance budgets for public school expenses, $9 billion of which has been paid out so far. The Health Department has also made available $2 billion in child care grants, $72 million of which have been paid out.
Protecting the vulnerable: $81 billion. Just less than half -- $46%, or $37 billion -- of these funds have been made available.
Nearly $16 billion of the $36 billion unemployment benefit extension program are available now, and $10 billion has been spent. The program increased benefits by $25 per week and extended the deadline for when jobless workers can sign up for an additional 20-33 weeks of unemployment benefits.
About $3.2 billion of the $19.9 billion in increased food stamp benefits have gone out to low-income Americans. The program increases food stamp payments by 13.6% over two years. Of the $3.2 billion, $2.8 billion has been spent.
And almost the entirety of a $150 million program to restock food banks has been made available. The Commodity Assistance Program, which sends shipments of federally purchased food to states, which in turn gets the food in the hands of large food banks, has seen $130 million obligated and $106 million spent so far.
Infrastructure and the economy: $274 billion. About $76 billion, or 27%, of these projects have been given funds, but just a fraction of them are actually under way.
The Transportation Department has been noticeably lagging, paying out just 3.5% of the $22.2 billion made available to it. Just $505 million of highway projects have received money, even though $17.2 billion of projects have been approved.
But the DOT claims that by Aug. 31, it will have 98 airport and 1,500 highway stimulus projects underway. This means construction will have started -- not merely that a contract has been awarded.
Similarly, the bulk of approved energy projects have yet to start. Of $3.5 billion in energy efficiency and renewable energy programs, just $62 billion has been paid out. And $3.8 billion in environmental cleanup funds have been made available, but just $118 million has been spent.

Features

These Fortune 100 employers have at least 350 openings each. What are they looking for in a new hire? More

It would be the world's second-biggest economy. See how big companies' sales stack up against GDP over the past decade. More