When he became the 44th president on Jan. 20, Barack Obama inherited the worst economic crisis since the Great Depression. After 200 days, here's a look at the progress he's made toward a recovery.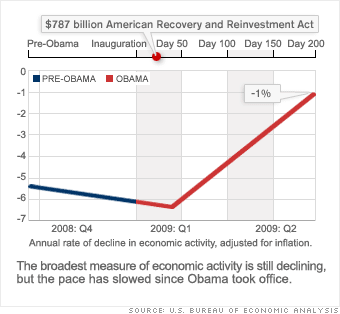 The nation's economy has continued to shrink since President Obama took office. But the rate of decline has been less severe and there are signs the 18-month old recession is winding down.
Gross domestic product, the broadest measure of economic activity, fell at an annual rate of 1% in the second quarter. That came after a 6.4% drop in the first quarter, which was the worst drop in GDP since the early 1980s.
Many economists believe the economy may register modest growth in the current quarter. "There's no doubt that the speed of the decline has slowed," said Bernard Baumohl, chief global economist at the Economic Outlook Group. "I think the recession is history."
But the coast isn't completely clear. Ed Friedman, of Moody's Economy.com, worries about the tapped-out consumer. "The consumer is way down," he said. "And he's going to stay down because of the retrenchment related to delinquencies, foreclosures and unemployment.".
NEXT: Stocks: The rally of '09