AIG's new CEO inherits a mess
Former MetLife chief Bob Benmosche is taking over AIG on Aug. 10, and top of his to-do list included selling off assets, hiring new talent and negotiating controversial bonuses.
Bailout tracker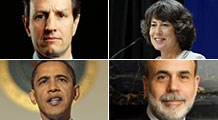 The government is engaged in a far-reaching - and expensive - effort to rescue the economy. Here's how you can keep tabs on the bailouts.
More
NEW YORK (CNNMoney.com) -- Welcome to AIG, Bob Benmosche.
At the top of your to-do list as the insurer's new CEO: Oversee the spin-off of two of AIG's core life insurance units. And, in an unprecedented move, sell stakes in those units to the Federal Reserve. All of this in just a matter of months.
It's part of AIG's master plan, known as 'Project Destiny,' which aims to repay a big chunk of the $82 billion in loans owed to U.S. taxpayers.
AIG is breaking off three huge subsidiaries: Its property-casualty business, recently renamed Chartis;Southeast Asian life insurer AIA; and foreign life insurance unit ALICO. Chartis was spun off last week, but its shares will be not be sold to the government.
Bold moves by the Fed. The New York Fed will take a $16 billion preferred interest stake in AIA and a $9 billion share of ALICO. In exchange, AIG will not need to pay back $25 billion of its loan. AIG expects the deal to close by the end of September.
That's similar to the Treasury's deal with General Motors and Chrysler, in which the government forgave billions of dollars of loans in exchange for an equity stake. Like the Treasury, the Fed is banking on the value of its investments increasing, perhaps years later, so it can sell the stakes for a profit.
It's a bold move for both the Fed and for AIG.
A spokeswoman for the New York Fed said she was unaware of another instance in which the Federal Reserve owned a stake in a company. In the rest of the government bailouts, including the taxpayers' 79.9% stake in AIG and the insurer's $40 billion TARP loan, it has been the Treasury taking stakes, not the non-partisan Fed.
For AIG (AIG, Fortune 500), the selling off of three enormous units is risky. AIG has long made a living on its size, thriving on its ability to offer the lowest prices to its customers by transferring costs across its countless subsidiaries.
"They certainly won't be what they were before," said Julie Grandstaff, managing director of insurance consultant StanCorp Investment Advisers. "They can still run a good insurance business, but it may be difficult to keep down costs and compete."
AIG's transition from the world's biggest insurer to, essentially, a middle-of-the-pack domestic life insurance company faces many challenges, not the least of which include maintaining the insurer's credit rating, attracting talent and restoring customers' faith in the company.
Benmosche's MetLife success. That may be why AIG and the government picked former MetLife (MET, Fortune 500) CEO Bob Benmosche to replace retiring chief Edward Liddy on Aug. 10.
Benmosche oversaw MetLife's transition from a private to a public company, which gave him experience in corporate restructuring. He was also successful at snatching top-tier talent away from competitors, said Stewart Johnson, portfolio manager at Philo Smith & Co.
That will prove useful, as many of AIG's best have been heading out the door, seeking better offers and shelter from bonus controversy.
Benmosche will need to walk that bonus tightrope, with about $240 million in controversial bonuses set to go out this year and next. But Johnson argued that Benmosche's restructuring of MetLife made him pretty well connected with government regulators -- his new bosses -- which could make him less of a punching bag than Liddy.
"A big part of Met's success was Benmosche's success in changing a very large institution's corporate culture," said Johnson. "He needs to change how AIG works and get people to think differently."
Asset sales. One critical position Benmosche will need to fill is that of Chief Restructuring Officer, currently held by outgoing Paula Rosput Reynolds. Reynolds was handpicked by Liddy to oversee the sale of AIG's assets to pay back the government, but those sales have been dismal.
Low investment valuations have pretty much been par for the course for AIG since its survival strategy began 10 months ago. A still-crunched credit environment has hurt AIG's chances at getting top dollar for many of its assets.
Furthermore, the value of those assets has declined as AIG continues to hemorrhage money. AIG will likely report the company suffered its seventh-consecutive quarterly loss when it issues a second-quarter financial statement on Friday.
Though it is easy to be dispassionate about AIG's success as an insurance company, AIG's stability is critical to it paying back the taxpayers.
Since its September bailout, AIG has sold or entered agreements to sell just 25 of its units for at least $7.3 billion (terms of about half of the sales were not disclosed).
Last week, Moody's downgraded two AIG units to "junk" status. AIG was trying to sell its plane-leasing unit and general finance consumer division, but the credit-rater said AIG's failed attempts to unload the units hurt the divisions' abilities to issue new debt.

Features

These Fortune 100 employers have at least 350 openings each. What are they looking for in a new hire? More

It would be the world's second-biggest economy. See how big companies' sales stack up against GDP over the past decade. More