Gasoline prices near their peak
Summer price spike is below normal due to weak economy, but markets and storms could change the forecast.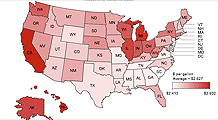 Prices at the pump can vary widely among states due to a number of factors.
More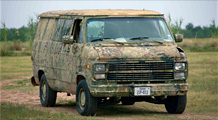 Take a peek at the heaps (no offense) these 6 turned in -- or tried to turn in -- to get their Cash for Clunkers deal.
NEW YORK (CNNMoney.com) -- Gasoline prices, which have surged 19 cents in the past 20 days, are not far from the highest level industry analysts expect this summer, but they remain well below last year's record.
The average national price for a gallon of gas could fluctuate between $2.55 and $2.70 a gallon in the coming weeks, according to spokesman Troy Green of motorist group AAA.
But he warned that the estimate depends on such factors as the price of crude oil, which has risen in the past few weeks, and the severity of the so-far quiet hurricane season.
The national average price for a gallon of regular gasoline edged up 0.2 cent to $2.645 Monday, according to AAA's daily survey of up to 100,000 filling stations.
Prices have increased every day since July 21, when the national average stood at $2.458 a gallon. During that time, the national average has risen 18.7 cents, or 7.6%.
Hawaii had the highest gas prices of any state at $3.179 a gallon. The cheapest prices were in South Carolina, where gas averaged $2.424 a gallon.
Looking ahead: While July and August are peak driving months, rising unemployment has limited the amount of driving Americans can afford to do this summer.
"We're still seeing a seasonal increase in gasoline demand, but it's not as much as we typically get," said Chris Lafakis, an economist who specializes in energy issues at Moody's Economy.com.
On June 21, the national average topped $2.693 a gallon -- its highest level of the year. But prices eased in the weeks following the July 4th holiday, slipping below $2.50 a gallon.
Last summer, the price of gas rose to an all-time average high of $4.114 a gallon in July. That came on the back of oil prices near $150 a barrel.
But prices abruptly dropped in the second half of last year as demand for oil and gas evaporated amid the economic crisis. In December, the national average gas price plunged to a low of $1.656.
Oil rally: The spike comes as the price of crude oil, which is the main ingredient in gasoline, has rallied in response to signs of economic stabilization and a weaker dollar. Oil has been trading in the low $70s in recent days after being in the $60 range last month.
"The main factor driving the increase in gas prices is higher oil prices," Lafakis said.
"In the near term, there is some upside risk with the price of gasoline," he added. "With optimistic sentiment in the market, investors could push oil to $80 a barrel and that's going to affect gas prices."
Investors have become more willing to put money into the oil market recently as the U.S. economy has shown signs that it is nearing the end of an 18-month long recession. The improved outlook has raised bets that demand could soon recover in the world's biggest consumer of crude.
Oil prices have also been pushed higher by the decline of the dollar, which makes dollar-denominated commodities such as crude oil cheaper for overseas investors.
"It seems investors are still thinking that the economy has turned around, and that's keeping the price of crude buoyed," said AAA's Troy Green. "But it's not due to supply and demand dynamics."

Features

These Fortune 100 employers have at least 350 openings each. What are they looking for in a new hire? More

It would be the world's second-biggest economy. See how big companies' sales stack up against GDP over the past decade. More