Take a peek at the heaps (no offense) these 6 turned in -- or tried to turn in -- to get their Cash for Clunkers deal.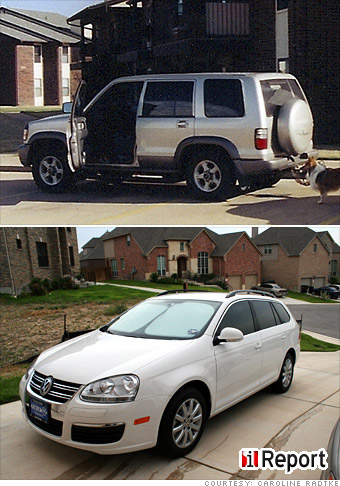 Caroline Radtke, of San Antonio, Texas, scrapped her Trooper for a Jetta.
Traded: 2000 Isuzu Trooper (15 mpg)
Bought: 2009 Jetta Sportwagen TDI (40 mpg)
With two children, big grocery purchases and a drive to save the planet, we'd been considering getting a new car even before the Cash for Clunkers program. The Trooper was a good car, but I felt bad about the environment every time I filled that guzzler. And I wanted something safer for my kids.
Some people think we're trying to be big ol' cowboys with a diesel vehicle, but the Sportwagen fit our needs perfectly. We had to educate ourselves about it, but diesel is so much cleaner now. It's a great little car for only about $26,500 after the trade-in.
Diesel may not be the best choice for someone with a lead foot, but it works for my family -- without us sacrificing gas mileage or paying a nutty premium for a hybrid. And it's cute! I like a car with some sass.
NEXT: Julie Callahan: Farm truck to cruiser