Car haggling, Internet style
The new GM portal on eBay could be a hit with Web-savvy car shoppers, although it's not a complete escape from going to a showroom.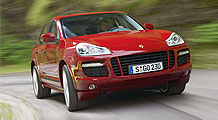 In J.D. Power's latest survey, new vehicle owners rate just how much they love their cars and trucks. The results include some pretty big surprises.
Find your next Car

NEW YORK (CNNMoney.com) -- It's not exactly buying a car online -- not yet. But General Motors' new eBay portal for its California dealers is a buyer's opportunity to avoid haggling face to face with a salesman, doing it byte to byte on a computer instead.
Under a new trial program launched Tuesday, more than 225 of the troubled automaker's California dealerships will list their inventory of Chevrolet, Buick, GMC and Pontiac cars and trucks online at gm.ebay.com.
The new "microsite" gives consumers the option to suggest a lower price, which the dealer can then accept or reject. If the offer is rejected, buyers can submit up to 10 more offers.
Consumers also have the option to buy a vehicle at the advertised price.
But the deal is not sealed online. The actual purchase takes place at the dealership. Buyers who don't live nearby can arrange to have a car delivered to them at their own expense.
"You're still essentially buying from a dealership," said Jessica Caldwell, an auto industry analyst at automotive research Web site Edmunds.com. "It doesn't completely cut out the middle man, but is a step in that direction."
Flexibility: Still, analysts said the program gives consumers more flexibility and pricing power.
"Consumers who might otherwise be apprehensive about haggling over car prices face-to-face could feel empowered by the chance to bargain anonymously online," said James Bryant, an auto industry analyst at Hoover's, a business information provider.
Bryant said the large number of dealers in the program gives consumers the ability to comparison shop and find dealers in their area more easily.
"Consumers will be empowered with a lot more information, and that's always good," he said.
For GM, the site is a response to an increasingly Web-savvy consumer, but determining the value of a trade-in "remains a glitch" in the program, said Louis Lataif, a former vice president at Ford Motor who is now dean of Boston University School of Management.
"Vehicle purchases, unlike virtually any other big-ticket purchase, generate 'haggling' because the consumer is often both a buyer and a seller," Lataif said in an e-mail message. "So on-line buying will have limitations."
Lataif said consumers will still want to maximize their trade-in value and will want to shop their trade among various dealers, which can't be done online. He also said buyers will need to visit a dealership to test drive an automobile.
One other catch: The cars posted on the site are also available to customers who visit the dealership, which means the vehicle can be sold to someone else at any time.
But Lataif sees a positive in the process of shopping for a vehicle online.
"The Internet will continue, however, to be an excellent source of consumer information so that, as has been the case now for several years, car shoppers are much better informed as they walk into dealerships to begin the buying process," he said.

Features

These Fortune 100 employers have at least 350 openings each. What are they looking for in a new hire? More

It would be the world's second-biggest economy. See how big companies' sales stack up against GDP over the past decade. More