How Obama's transparency promise holds up
The Obama administration vowed to be open about the bailouts and stimulus, but overseers say many aspects of the rescue plans are as clear as mud.
Bailout tracker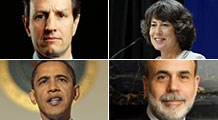 The government is engaged in a far-reaching - and expensive - effort to rescue the economy. Here's how you can keep tabs on the bailouts.
More
NEW YORK (CNNMoney.com) -- The Obama administration pledged unprecedented transparency in its accounting of the $700 billion bank and auto bailouts (TARP) and the $787.2 billion Recovery Act. A lot of information has been made public but there are some key details where the transparency falls far short.
Here's what we still don't know:
How are banks using TARP funds?
Who are bailed out banks lending to?
What is the value of the assets that Treasury has accumulated as a result of TARP?
Where are stimulus funds ultimately going?
They're important questions: We want the government to ensure it is spending our money wisely, and experts want to know why the Obama administration won't provide the answers.
"Why are we bailing out banks, and what are we getting out of it?" asked Craig Jennings, senior fiscal policy analyst at transparency research organization OMBWatch. "These are very big questions, and the administration doesn't seem to be willing to answer them."
What we do know. To make the bailouts and stimulus more transparent, the administration commissioned Web sites like recovery.gov and financialstability.gov, which have given the public previously unattainable information about how taxpayer funds are spent.
"The president and vice president made a clear commitment from the beginning that we would provide unprecedented accountability and transparency," said Liz Oxhorn, the Obama administration's spokeswoman for the Recovery Act. "Look at recovery.gov and compare it to the standard of how government worked in the past. It is truly a pioneering site in terms of access."
But many analysts and overseers say that the provided information is not nearly enough.
"The administration's transparency goals clearly have not been reached," said John Clippinger, co-director, of the Berkman Center for Internet & Society at Harvard University. "I think this administration is making a huge effort to enable them, considering where we've been in the last eight years, but they're certainly not there yet."
Accounting for TARP. The Treasury Department states on financialstability.gov that the $204 billion in capital investments in banks are "for stability or lending." But it does not require banks who have received the funds to show how they are using the money.
Special Inspector General for TARP (SIGTARP) Neil Barofsky, and Prof. Elizabeth Warren's Congressional Oversight Panel (COP) have been outspoken on this issue, and Barofsky even performed his own voluntary survey to show the accounting could be done. Treasury responded that its current method of accounting is sufficient -- reporting on broad trends for the top 21 banks' lending habits.
"We share SIGTARP's interest in tracking the level of lending by those institutions that have received government investment," a Treasury official said. "To that end, Treasury has released monthly reports tracking how much these institutions are actually lending."
Experts say without deeper digging into the question of "where the money is going," the public will never really know if the program is working: If banks are lending, what do they have to show for it? How has lending improved?
"Are they giving loans just to extremely credit-worthy people? Subprime borrowers? Are minorities able to secure loans?" asked Jennings.
Besides "is it working," Treasury also won't answer how taxpayers' investments are faring, declining to make public the fair market value for the shares and warrants it holds as a result of TARP. Taxpayers won't have any way of knowing whether they have lost or gained money on their investments in companies like General Motors, AIG (AIG, Fortune 500), Citigroup (C, Fortune 500) and Bank of America (BAC, Fortune 500) until after the government sells its stakes.
Digging into stimulus. The accounting of stimulus has been met with less scrutiny, mostly because Congress made it a point to track how every dollar was spent after struggling to get the same information from the TARP program.
Still, the government's accounting only goes as far as the first tier recipients from the states. For example, say a construction company gets stimulus funds from the state of Nebraska. That company has to report the receipt of those funds to the government, but if they hire a dump truck company and an asphalt company to do the work, that doesn't get reported.
Why do we care? "It would enable the Obama administration to say there were X amount of businesses that benefited from a particular project, and the government could connect the dots if there is fraud, waste or abuse," said Jennings.
What can be done. Some argue open-source technology is the best solution for both the government and the public.
That is, use the Internet to provide all forms of government data in a very sortable, searchable database, said Clippinger. He argues that if all the data are in one place, with independent eyes looking at it, then the data couldn't be co-opted, or selectively made available.
"When you get lots of people looking at it, you'll create better accountability and efficiency," said Clippinger.
That idea is supported by House bill H.R. 1242, backed by Reps. Carolyn Maloney (D-N.Y.) and Peter King (R-N.Y.). The bill would take the reporting out Treasury's hands, and require the administration to send all data straight into a database.
It's similar to the model used by recovery.gov, which is run by the independent Recovery Accountability and Transparency Board (Recovery Board), not by the Obama administration, which runs financialstability.gov.
"We're fully aware of what our name is and what the public expects of us," said Ed Pound, a Recovery Board spokesman. "We're not going to fall into that trap of not sharing certain information."
In the end, experts say the Obama administration will have to find ways to make a greater amount of data even more accessible to achieve the transparency goals it set out for itself.
"There are other ways of skinning this cat," said Clippinger.

Features

These Fortune 100 employers have at least 350 openings each. What are they looking for in a new hire? More

It would be the world's second-biggest economy. See how big companies' sales stack up against GDP over the past decade. More