Clunkers: Toyota passes GM as top seller
Cash for Clunkers buyers are still showing strong preference for smaller cars, as program tops 350,000 sales.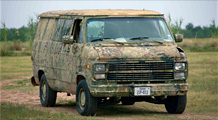 Take a peek at the heaps (no offense) these 6 turned in -- or tried to turn in -- to get their Cash for Clunkers deal.
Find your next Car

NEW YORK (CNNMoney.com) -- More customers trading in vehicles under the Cash for Clunkers program bought cars from Toyota than any other manufacturer, according to new government statistics. In previous reports, General Motors has topped that list.
Toyota has so far sold 18.9% of the vehicles bought through the Clunkers program, while GM is now second, with 17.6% of Clunkers sales. Ford Motor Co (F, Fortune 500). ranks third in Clunker sales, followed by Honda and Chrysler.
Toyota is doing better in Clunker sales than in overall U.S. auto sales, where it stands second to GM. So far this year, GM's overall U.S. market share is 19.6% and Toyota's is 16.3%, according to analysts at the automotive Web site Edmunds.com.
Despite the prominence of Asian brands among the top ranks of Cars for Clunker beneficiaries, slightly more than half of all vehicles purchased under the program were manufactured in the United States.
Buyers have mostly been trading in trucks in favor of small cars, according to data provided the National Highway Traffic Safety Administration, the agency responsible for running the program. The vast majority of trade-ins, 83%, have been trucks, while 59% of new vehicle purchases have been cars.
The average fuel economy of vehicles being traded in under the program has been 15.8 miles per gallon, according to the latest government data, while the fuel economy of vehicles purchased has averaged 25 mpg, a 58% improvement.
The Toyota Corolla is the most popular car purchased under the program, according the NHTSA, followed by the Honda Civic, Ford Focus compact cars and the Toyota Camry mid-sized car.
The government's system for tallying sales of individual models counts different versions of a car as different models, however, which tends to hurt the rankings of models that have, for instance, two-wheel and four-wheel drive versions. The formula splits their sales figures.
According to analysts at the automotive Web site Edmunds.com, the Ford Escape compact crossover SUV is actually the most popular vehicle purchased under the program, followed by the Ford Focus compact car, the Honda Civic compact car and the Jeep Patriot compact SUV.
The Senate passed a $2 billion extension of the Cash for Clunkers program on Thursday. The program quickly burned through an initial $1 billion in funding after its official kick-off on July 24. So far, about $1.5 billion of claims have been submitted by dealers who have sold a total of about 360,000 cars.

Features

These Fortune 100 employers have at least 350 openings each. What are they looking for in a new hire? More

It would be the world's second-biggest economy. See how big companies' sales stack up against GDP over the past decade. More