Cash for Clunkers heading to junk yard
Dealers are pulling out of the program due to worries about repayments and limited availability of fuel efficient cars. But customers are losing interest as well.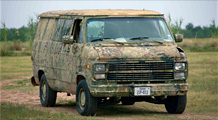 Take a peek at the heaps (no offense) these 6 turned in -- or tried to turn in -- to get their Cash for Clunkers deal.
NEW YORK (CNNMoney.com) -- Cash for Clunkers, the very successful federal program that has brought car buyers back to showrooms, is about to reach a very rough end of the road.
Auto dealers, among the biggest supporters of the program, are pulling out in large numbers, worried that they won't be reimbursed for the up to $4,500 they have advanced to each customer who trades in older gas guzzlers for more fuel efficient models.
Dealers are complaining that slow processing of paperwork by the Department of Transportation has put them in a cash flow bind, requiring them to advance well over $1 billion so far.
They also worry that the delays in processing their applications could mean there are far more deals in the pipeline, a problem since the $3 billion allocated to Cash for Clunkers is already close to exhausted.
According to the most recent figures from the Department of Transportation, there have been more than 457,000 deals so far, with claims of nearly $2 billion.
Michelle Primm, managing partner of Cascade Auto Group in Cuyahoga Falls, Ohio, said she had done about 31 clunker deals, but only has gotten money back on three of them.
She said she will not close new deals until reimbursement arrives. Even though she knows she is losing sales because of that, she said she can't afford to do otherwise given how much cash is needed to run a dealership.
To address these concerns, General Motors, which Tuesday announced it was upping production plans to meet the sales demand caused by the Clunkers program, announced early Thursday that it would provide cash advances to its dealers in the amount equivalent to the federal rebates they are owed.
"We want to do all we can to provide customers with timely new vehicle deliveries and dealers the liquidity they need to run their businesses," said Mark LaNeve, GM vice president of U.S. sales, in a statement. "This will continue the sales momentum."
Transportation Secretary Ray LaHood also tried to assure dealers Wednesday, responding to criticism about slow payments by saying the government has "put an enormous number of people on the task of processing the paperwork" and that "there will be no car dealer that won't be reimbursed."
LaHood added though that some of the blame lies with the dealers themselves.
"Part of the problem is frankly, some of the information was not provided to us. The application, or the form that needed to be filled out by the car dealer was inadequate, we had to send it back to them. That caused a great deal of delays. Part of the delay is that, and part of the delay is just the huge number of cars," he said.
LaHood also said that the DOT will soon release more details about when Cash for Clunkers would end.
"In the next few days, we will be making an announcement about the amount of money that we have already spent, and when it will be sort of the final days of the program," he said.
But the National Automobile Dealers Association said it is still concerned. In a statement released Wednesday evening, the trade group said it would be better to suspend the popular program now than leave dealers without money for deals they have completed.
"Given the popularity of the program and the rapid pace at which 'clunker' deals are being done, it is difficult, if not impossible, to accurately project the 'burn rate' of available funds," NADA said.
Other dealer groups said there needs to be a specific date given for the end of the program, and a promise from the Department of Transportation that all qualified deals before that date will be reimbursed, even if it exceeds the amount appropriated by Congress.
"If they don't set an end date, this is going to be like a huge musical chair game. There will be dealers left standing holding the bag without money," said Russ Darrow, who owns 15 dealerships in Wisconsin and is chairman of a trade group representing import brand dealers.
Darrow said he's considering stopping doing deals at his 15 dealerships after this Saturday. Other dealers aren't waiting.
Mark Schienberg, president of the Greater New York Automobile Dealers Association, said several of the group's members he's talked to have already pulled out of the program and he believes that many others aren't far behind in doing so.
Consumer demand waning as well
But there's another reason why Cash for Clunkers may soon run out of gas. Customers are also losing interest in the program.
Information from the National Highway Traffic Safety Administration show that the daily pace of clunker program sales in recent days was about 17,500, down about 40% from the peak levels of 30,000 a day in early August.
Part of the slowdown in sales may be due to a limit to the number of customers who own clunkers who have the financial wherewithal to close a deal. In addition, automakers and their dealers are running out of the fuel efficient cars that have been popular with buyers.
Limited supplies have driven up the cost of a new car to near or even above sticker prices, negating the advantage of the program.
"The $4,500 might seem like a great deal. But if you pay $2,000 over sticker for a car that normally sells for $2,000 under sticker, it's no longer a great deal," said Jesse Toprak, vice president of industry trends and insights for car pricing tracker True Car.com.
Some car buying experts have also suggested that consumers interested in fuel efficient cars who don't have a clunker to trade in should postpone their purchases until prices can get back to normal.
CNN's Paul Courson contributed to this report.

Features

These Fortune 100 employers have at least 350 openings each. What are they looking for in a new hire? More

It would be the world's second-biggest economy. See how big companies' sales stack up against GDP over the past decade. More