Finding cheap health insurance (stocks)
Fears of a drastic overhaul are fading. So why are managed care stocks still trading as if the government is going to eat all their profits?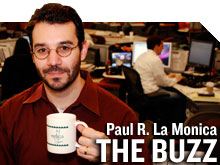 Photos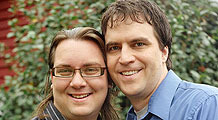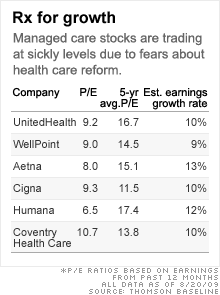 NEW YORK (CNNMoney.com) -- Public options? A co-op? Or how about sticking with the status quo of good old-fashioned private medical insurance plans?
The debate over health care reform is still raging in Washington and town halls nationwide -- did you catch Barney Frank comparing a constituent to a dining room table earlier this week?
It's looking and less likely by the day that "Obamacare" will be as radical an overhaul of the industry as he and other Democratic leaders had hoped.
And that has helped shares of top managed care companies such as Aetna (AET, Fortune 500), Cigna (CI, Fortune 500), WellPoint (WLP, Fortune 500) and UnitedHealth (UNH, Fortune 500).
The iShares Dow Jones US Healthcare Provider ETF (IHF), an exchange traded fund that includes all the leading health insurers, has shot up about 10% in the past month, outperforming the broader market during that stretch.
Before the latest run, the group had been getting pummeled. Part of that was the result of the recession. But investor worries about the group can also be tied to Barack Obama winning the presidency and his administration's focus on health care reform.
Any drastic shakeup of how Americans get health insurance could lead to a significant erosion in profits for the managed care firms, and to a lesser extent, life insurers offering supplemental health coverage such as Aflac (AFL, Fortune 500) and Unum (UNM, Fortune 500).
But despite the recent run-up in health insurer stocks, many of them are still trading at extremely cheap levels.
UnitedHealth, for example, trades at just 9 times earnings for the past 12 months, half of its 5-year average. And it is trading at just 9 times 2010 earnings estimates, despite forecasts for 10% earnings growth for the next few years. The same can be said for most other big health insurers.
So there's a disconnect here. Investors seem to think that earnings estimates are too high. But Tom Forester, manager of the Forester Value fund, said that much of the public backlash surrounding health care reform in recent weeks is a sign that little may ultimately change.
"When you think about it, most people like their health care insurance. Frankly, things aren't going to wind up as badly for the managed care companies as investors seem to think," said Forester, who owns shares of UnitedHealth and Humana (HUM, Fortune 500) in his fund.
But political concerns still linger. Even though the so-called public option, i.e. a government-controlled insurance plan, may be off the table, some key Democrats are still gunning for the health insurers to make some big changes.
House Energy and Commerce Committee chairman Henry Waxman (D-CA) and Oversight and Investigations Subcommittee chairman Bart Stupak (D-MI) sent letters earlier this week to top health care executives requesting information on how they use the premiums they collect from customers.
Nonetheless, Forester thinks that the political uproar won't amount to much -- even if some sort of reform is signed into law.
"Something will pass in Congress to save face but I do think health care will be watered down and won't really affect the insurers that much," he said.
In fact, Forester said that reform could be a positive for the insurers since it could lead to more people getting some form of health care coverage, and that could translate into more customers for the existing managed care leaders.
Charles Fernandez, president of the Fairholme fund, agreed that managed care firms could wind up getting a boost from reform. He added that's a big reason why his fund is investing heavily in the group, with stakes in Humana, WellPoint, UnitedHealth and WellCare Health Plans (WCG, Fortune 500).
"Health insurers are part of the solution, not the problem," Fernandez said. "Realistically if the government wants involvement in healthcare, it should be through cooperation with the managed care companies. There's no way the government can be more efficient. The private sector always does it better."
With all that in mind, Forester believes that once the chatter in Washington fades, it will be back to business as usual for the managed care companies -- and their stock prices.
"You're not going to see the stocks double, but they could be 30% to 40% higher 6 months form now," he said. "Things are going to get back to normal and their valuations should go back up."
Bouncy C shout-out: In yesterday's column about Citigroup (ticker symbol of C) and other surging bank stocks, I promised to give props to the first reader to e-mail me with the source of the following reference: Give me a C! A bouncy C!
The winner is Bill Ivanko, who, in a delicious bit of irony, works for Citi. He correctly identified this quote as coming from Martin Short's Irving Cohen character, an old vaudeville singer who would shout that demand to his piano player. He even sent a link to a video for a classic "Saturday Night Live" clip featuring Cohen along with Eddie Murphy as Gumby. Nice work, Bill. Give my regards to Vikram Pandit.
But two other kudos are in order. Bill Rosen was the first to write in and mention that Short debuted the character on Canada's "SCTV" before he headed south and joined SNL And Thor Larson pointed out that Short appeared as Cohen in an episode of "Muppets Tonight" as well. Thanks to all who sent in e-mails and have a great weekend!

Features

These Fortune 100 employers have at least 350 openings each. What are they looking for in a new hire? More

It would be the world's second-biggest economy. See how big companies' sales stack up against GDP over the past decade. More