Do you Yahoo? Probably.
Yahoo reaches 80% of Internet users -- same as Google -- but its focus on content over search has yielded a lower profit than its rival. Is that misguided or bold?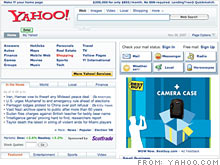 NEW YORK (CNNMoney.com) -- To answer Yahoo's famous slogan: 157 million users say yes. But rival Google draws just about the same number of visitors and makes 11 times as much. So, what gives?
Yahoo trails Google when it comes to search rankings but Yahoo's ad network reaches more people than its colorful rival.
The real answer lies in what people are looking for when they go to Yahoo versus Google (GOOG, Fortune 500). Both offer content and search, but people tend to flock to Yahoo for less-profitable content, and use Google for the more-profitable searches.
"Google makes a lot more per visitor than Yahoo does," said Andrew Frank, Yahoo analyst at Gartner. "Yahoo has a higher overhead than Google, because it has to do more per click than just show 10 page results."
Yahoo's sites reach 80% of Internet users in the United States, according to a recent survey by online data tracker comScore. That's just a hair less than the 81.2% of users that Internet leader Google reaches. And Yahoo's ad network reaches 5% more people than Google's network.
But Yahoo (YHOO, Fortune 500) took home just $131 million in profit this past quarter, compared with Google's $1.5 billion. Both reach about the same number of U.S. users each month, so why the disparity?
Search is far more profitable than content and media because it can target ads to specific keywords. When a person types in a term or terms, the search engine knows what the user is looking for, and it can display ads that are tied to the query. For example, if you're looking for a 50-inch flat screen TV, you'll likely wind up with several advertisements for 50-inch flat screen TVs.
But it's harder to do that on a media site that focuses on content. Ads on Yahoo Sports, for instance, can zoom in on products that sports fans may like, but those ads won't be nearly as targeted to the reader as a search ad.
Search wars. Even during the depths of the recession, the battle over the profitable search advertising market has heated up. Google controls 64.7% of the U.S. search market, compared to Yahoo's 19.3% and Microsoft's 8.9%, according to the most recent comScore report.
So it came as no surprise when Yahoo agreed last month to partner with Microsoft (MSFT, Fortune 500) in its search business, in an attempt to eat into some of Google's enormous market share.
Under the terms of the deal, Yahoo will sell the most profitable "premium" ad spaces for both its Web sites and Microsoft's sites, which have the most potential for growth, according to Frank. Microsoft's Bing engine will power Yahoo's searches, though Yahoo will have control over the look and feel of searches on its Web site.
Content still rules. Despite trying to scale up its search business, Yahoo Chief Executive Carol Bartz has maintained that Yahoo will focus on what it does best: media and content. Smart move?
"She's playing to their strength, which is content," said Carl Howe, analyst with Yankee Group. "It's a much bigger media company than it is a search property."
In fact, some analysts say the comparisons between Yahoo and Google are inherently unfair.
"Search is not their business," said Sue Feldman, search analyst for IDC. "Yahoo is a diversified media company that happens to have search, and that's led to a lot of confusion about its role."
As a media company, it may have some room to grow.
According to a Forrester Research study, people spend 34% of their media time on the Internet, and 35% of their time watching television. But 31% of advertising spending is for TV, compared with just 12% on the Internet.
In spite of some tough times for online media companies of late, that's potentially great news for the biggest Internet content provider.
"There's a great deal of potential growth in media advertising, especially when you compare the amount of time audiences are spending online compared to other media," said Frank. "There are still a lot of advertisers that are shifting their focus to consumers online."

Features

These Fortune 100 employers have at least 350 openings each. What are they looking for in a new hire? More

It would be the world's second-biggest economy. See how big companies' sales stack up against GDP over the past decade. More