New home sales blast past expectations
More people are buying: Sales of new homes hit their highest level since last September.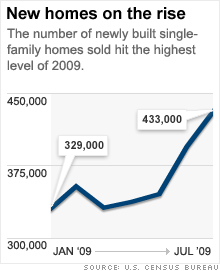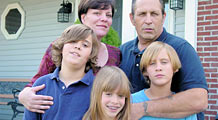 After losing their homes, these 4 families thought they'd never recover. They've found it difficult to rent and their credit is wrecked, but life is looking up.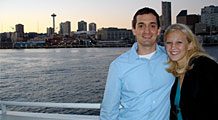 Thanks to sinking home prices, these 5 homebuyers were able to score deals in areas they couldn't previously afford.
NEW YORK (CNNMoney.com) -- Sales of newly constructed homes leaped unexpectedly in July to hit their highest level since last September.
New homes sold at an annualized rate of 433,000 during the month, according to a joint report issued by the Census Bureau and Department of Housing and Urban Development.
That far exceeded analysts' forecasts and was up 9.6% from the revised 395,000 rate recorded in June. A consensus of industry experts surveyed by Briefing.com had predicted July sales of 390,000.
The news followed other positive housing market reports earlier this month, including a spike in existing home sales, home prices and affordability.
"There are many economic conditions that led to the surge," said Bob Walters, chief economist for Quicken Loans. "But certainly low mortgage rates, huge price reductions on the high inventory of new builds, and the first-time homebuyer tax credit have been instrumental in getting consumers to take the plunge into the real estate pool of opportunity."
Plus, the psychology of the market is changing, according to Peter Morici, an economics professor at the University of Maryland. "The notion that prices will drift down forever is gone," he said. "Now people are thinking the window of opportunity will not be open forever."
"Home shoppers visiting builders' model homes are more likely to purchase than earlier in the year," added Brad Hunter, chief economist for Metrostudy, a real estate research and consulting firm.
They are also canceling fewer contracts. Of the 10 markets where Hunter examines cancellation rates, most are running at substantially lower levels. In Phoenix, for example, the cancellation rate lately has been about 4% compared with 7% late last year.
It certainly is an attractive market. The median price of a new home declined again last month to $210,100, down only slightly from June but off more than 11% from July 2008.
The Housing Market Index, a measure of builder confidence calculated by the National Association of Homebuilders and Wells Fargo, inched up again this month to 18, its highest level in more than a year.
That's still low by normal standards: Anything below 50 indicates that more builders think business conditions are poor. And new sales, though rising, are still well below what they were last August, when they sold at a 520,000 annualized rate.
But the sales spike did help reduce the inventory: Available new homes dropped to 271,000 -- the lowest total in 16 years -- from 281,000 a month earlier. That's down to a healthier 7.5 month supply at the current rate of sales from 8.8 months in June.
Still, when factoring in existing homes for sale, inventory levels remain high, according to Mike Larson, real estate analyst for Weiss Research. He also pointed out that the continued influx of foreclosed properties over the next year or so will replenish supplies.
However, supply could creep back up at the end of the year. On Nov. 30, the $8,000 tax credit for first-time homebuyers is also set to expire. And experts worry that the brisk pace of sales will fall off if homebuyers are sidelined once the incentive disappears.
But for now, they are optimistimic."This [report] is clear evidence the dramatic cut back in housing starts, plus increasing consumer confidence and the targeted tax cut for first-time buyers, is restoring stability to the new home market," said Larson.

Features

These Fortune 100 employers have at least 350 openings each. What are they looking for in a new hire? More

It would be the world's second-biggest economy. See how big companies' sales stack up against GDP over the past decade. More