Thanks to sinking home prices, these 5 homebuyers were able to score deals in areas they couldn't previously afford.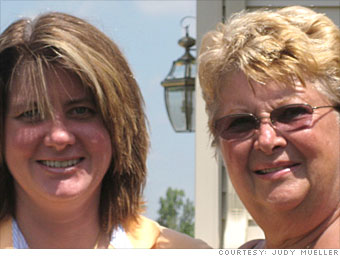 Lynn Sampey-Picardi and her mom, Judy Mueller, now own a pied-a-terre in Chicago.
Location: Chicago
Home: 1 bedroom condo
Price: $136,000
Lynn Sampey-Picardi is an accountant in suburban Chicago, where her mom, Judy Mueller, is a real estate agent. But both wanted a place in town to use when they go shopping or to museums and baseball games.

"My daughter was the one who really wanted to do it," said Mueller. "She has three young children and wants them to have the benefit of visiting downtown. We're all big Cub fans."

Their Century 21 agent, Joan Sinnott, said she's seeing "a migration back to the city of people my age (late 50s) buying condos downtown."

But until recently, Chicago condos were too expensive for the pair to buy as a part-time pied-a-terre. Now, they own their little piece of Chicago in the Lakeview neighborhood - and it cost them about 20% less than it would have three years ago. Plus, the condo is steps from Lake Michigan and Lincoln Park and right near Wrigley Field.
"It's a wonderful neighborhood," said Mueller. "You walk under Lake Shore Drive and you're on the lake."
NEXT: A desert oasis condo
Last updated July 09 2009: 5:00 PM ET