Dell sees stronger second half, stock surges
The PC giant says second-quarter net income fell 23%, but it expects increased demand as economy picks up.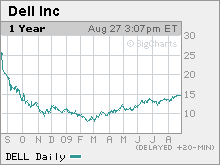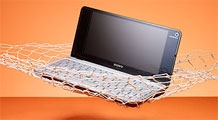 Netbooks are models of portability. But can you stare at those little screens all day? Our reviewer put three to the test.
NEW YORK (CNNMoney.com) -- Dell reported earnings that beat analysts' estimates Thursday and said it expects stronger sales in the second half of the year, sending shares of the world's second-largest PC maker up 5% in the hours following its report.
Chairman and chief executive Michael Dell said in a statement that the company had significantly lowered operating costs in anticipation of an IT spending turnaround. "If current demand trends continue," he said, "we expect revenue for the second half of the year to be stronger than the first half."
In the current quarter, Dell (DELL, Fortune 500) said it expects PC demand to improve on back-to-school spending and purchases by the U.S. government, while demand from large commercial customers will be slower.
Dell told analysts in a conference call that he expects a "powerful new product cycle" next year as businesses replace aging equipment to take advantage of new software and hardware products.
He said he sees Microsoft's Windows 7, which will be the first upgrade of the popular operating system in eight years when it comes out in 2010, and the latest version of Microsoft Office as two new products that will drive a new purchases.
"When you have an alignment of technology such as this, and an old install base, we have every reason to believe that there will be a large refresh," Dell said.
However, analysts say the impact of such an equipment refresh will be gradual since many corporations remain wary of making large investments in technology, given the cloudy outlook for the economy.
"It's going to start slowly," said Shannon Cross, an analyst at Cross Research. "So much is going to be depend on what corporations see in the economy."
PC demand remains weak and average sales prices have been falling sharply, squeezing profit margins for companies like Dell. "The PC market is still a tough market to be in right now," Cross said.
To cope with the difficult environment, Dell said it would continue its aggressive cost-cutting campaign. The company said it has redesigned about 70% of its total product volume as part of a plan it launched last year to cut $4 billion in costs.
"The best path for Dell remains one focused on profitable growth, lower costs and smart use of working capital," said Brian Gladden, Dell's chief financial officer.
The company said its second-quarter net income fell 23% to $472 million, or 24 cents per share, from $616 million or 31 cents per share a year ago.
Excluding certain charges, Dell said it earned 28 cents pre share, which was above the 23 cent profit analysts surveyed by Thomson Reuters had forecast.
Sales were $12.76 billion in the quarter. That's down 22% from $16.43 billion a year ago, but was better than analysts' estimates of $12.59 billion.
Dell's sales to large corporate clients fell 32% to $3.3 billion, while sales to consumers were down 9% in the quarter.
Desktop PC sales were down 33% and laptop sales fell 21%.
Earlier this month, rival computer maker Hewlett-Packard (HPQ, Fortune 500) reported strong quarterly results and said it saw signs the economy is stabilizing.
Shares of the Round Rock, TX-based company jumped to $16.01 in after-hours trading after closing at $14.67 in regular trade.

Features

These Fortune 100 employers have at least 350 openings each. What are they looking for in a new hire? More

It would be the world's second-biggest economy. See how big companies' sales stack up against GDP over the past decade. More