Netbooks are models of portability. But can you stare at those little screens all day? Our reviewer put three to the test.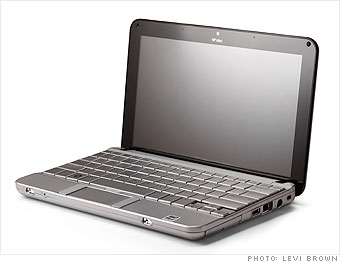 I'm the founder and CEO of
Zong
, a company that processes payments for people who buy, say, virtual goods in online games or content on social networks such as Facebook. We work with more than 300 companies, so my job requires extensive travel. That's why I was excited to test the latest generation of tiny, cheap laptops known as netbooks.
First I tried the HP Mini 2140 ($449). Its aluminum casing looks and feels solid, which is a huge plus. A netbook is likely to be carried around all the time, so you want to be sure it's at least as sturdy as your cell phone. The Mini features Intel's efficient new Atom N270 processor, which helped it achieve a battery life of seven hours. The processor clocks in at 1.60GHz -- not enough to run Photoshop and other applications that eat a lot of processing power, but not too shabby for loading Web pages or online video.
The Mini weighs 2.5 pounds and measures an inch thick. HP engineers managed to cram a 10.1-inch screen into a 10.3-inch machine. The screen is bright and very usable in all light conditions. The Mini 2140 provides a maximum resolution of 1,024 x 576, enough for most applications, but HP also offers a 1,366 x 768 version of the same model for $479. I would definitely pay the extra $30 to expand my real estate.
I found the Mini's keyboard, which is 8% smaller than a traditional laptop keyboard, eminently usable. The hard drive packs an ample 160GB and an accelerometer to help prevent data loss -- if it detects that the notebook is falling, the drive puts itself in a special safety mode. HP claims this feature reduces the risk of data loss by more than 50%. It's something to consider with netbooks, as you will probably drop them as often as your cell phone.
I wasn't crazy about the Mini's trackpad buttons, which are located on the side of the pad instead of at the bottom. It takes a while to get used to clicking that way, but I guess you need to make some design tradeoffs in a 10-inch laptop.
NEXT: Asus Eee