Foodie feasts straight from the farm
An epicurean entrepreneur brings foodies to the great outdoors.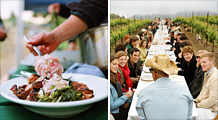 At Outstanding in the Field's locavore dinners, diners get up close and personal with the farms -- and pigs -- that created their food.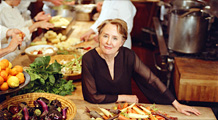 When Alice Waters opened Chez Panisse in Berkeley in 1971, she wasn't trying to start a food revolution. Here's how her neighborhood restaurant became the epicenter of the organic movement.
MARIN COUNTY, Calif. (Fortune Small Business) -- I'm standing with 140 other ravenous diners outside a pigpen on Devil's Gulch Ranch, about 30 miles north of San Francisco, looking at an exhausted 350-pound sow named Penelope. She's resting, having given birth to seven five-pound piglets a few hours earlier.
We had all gathered at the farm for a $200-per-person alfresco four-course dinner when Mark Pasternak, owner of Devil's Gulch, told us about the birth. Everyone except me wanted to see the babies. Having grown up on a farm, I had misgivings about doing so before supper -- barnyard births can be gruesome -- but ultimately I couldn't resist the lure of the newborn.
We follow Pasternak and chef Jim Denevan, whose Santa Cruz-based company, Outstanding in the Field, organized our dinner, down a dirt road to the pen. Unfortunately, one little piglet is trapped between the hulking mother's backside and a wire fence and doesn't appear to be breathing.
Pasternak, who has already showered and dressed for dinner, enters the pen, nudges the mother with the tip of his boot and grabs the tiny creature. He gently places it under a nearby heat lamp with its porcine siblings. There's an audible gasp of relief when it begins to wriggle around.
Uncomfortably soon after this close call, a guest wonders how much bacon could be rendered from a full-grown pig roaming at the far end of the pen. About 20 pounds, Pasternak says. We may find his matter-of-factness jolting, but that's life -- and death -- on the farm, and it's one of the reasons we're here.
"Our passion is helping people understand where their food comes from," Pasternak says. "Milk doesn't come from a carton. It's easy to buy prepackaged meats and have no idea about their origins, but it's not good for your health or the environment."
Conversations like this inspired Denevan to launch Outstanding in the Field a decade ago. At the time he was the executive chef at Gabriella Caf, an Italian eatery in Santa Cruz, Calif. Occasionally he would hold special dinners featuring local produce and invite the farmers to talk about the food they had grown. "People were fascinated with what they had to say," he recalls.
Soon he was bringing patrons to farms where they could eat fresh, seasonal organic fare and dine in an unforgettable natural setting. "Markets and restaurants may be able to tell you where your food comes from, but a dinner like this allows you to actually see it," says Denevan, 48. "You can't get any closer than this."
Suffering from a serious case of wanderlust and the conviction that he had a good business idea, Denevan quit his job in 2004, bought a 1953 red-and-white Flxible bus for $7,000 (he named it Outstanding) and toured North America, hosting 13 dinners at which regional chefs cooked local ingredients along the way.
"Many people considered it an adventurous thing to do, but they didn't see it as an opportunity," he explains. "I saw the interest in food culture emerging. I knew it had potential as a business."
A growing movement
In the years since his first dinner in Northern California, the organic movement has gained traction across the country. In March, First Lady Michelle Obama planted an organic vegetable garden on White House grounds, much to the delight of foodies nationwide.
This growing interest in healthy, natural food helps explain why Denevan's business posted annual revenues of more than $1 million last year and why his 2008 book, Outstanding in the Field: A Farm to Table Cookbook, has more than 30,000 copies in print. When the tickets for his 2008 dinners -- held in locales ranging from a campus in Vancouver to a farm outside Miami -- went on sale on the first day of spring last year, they sold out in 20 minutes. Even in the midst of the current recession, more than 30% of the 2009 season's 58 dinners sold out in the first month tickets were available.
After leaving the pigpen we wander up the hill, veering off onto a dirt avenue normally used by vineyard tractors and trucks, and find a 140-foot table, covered in crisp white linens, set up between rows of budding pinot noir vines. Some guests take their seats while others drift toward the delicious smells wafting from the makeshift outdoor kitchen about 50 feet away. Tonight's chefs, the Bay Area husband-and-wife team of Stuart Brioza and Nicole Krasinski, tend to the grill, fielding questions as they feverishly prepare plates for the guests. As the couple put their finishing touches on the evening's South American-themed meal, inspired by their recent foray to Argentina, Chile and Peru, OITF's workers scurry around setting up another table; it seems there are more guests than expected.
Servers fill our glasses with a citrusy 2006 chardonnay from Stubbs Vineyard Estate, made from grapes grown 10 miles away. Our first course is presented family style: big white platters of shredded rabbit (raised at Devil's Gulch Ranch) with asparagus (from nearby Marin Roots Farm) mixed with crushed peanuts, lime, oregano and a not-too-spicy chili powder.
As we eat, the sun dips behind the clouds and a chill sets in. Far in the distance, we can see a dense fog settle over the bay laurels, California live oaks and Douglas firs.
Spectacular scenery is a hallmark of OITF dinners. Denevan is an accomplished artist who creates elaborate sand drawings with sticks or rakes -- last May he made one in the Nevada desert with a circumference of more than nine miles. As you might expect, he has an eye for landscapes. Over the years OITF has set up tables in exotic locations nationwide: a sea cave near Half Moon Bay in California, an isthmus near Seattle and the top of the highest hill in Brenham, Texas (the table curved around the peak, providing a 360-degree view).
"There's so much that goes into orchestrating these dinners," he says. "I'm composing a work in the field."
By the time the second course of steaming quinoa, fava bean and pork shoulder stew arrives -- made from a Devil's Gulch Ranch pig slaughtered a week earlier -- I'm chatting with Andy Kurtzig, 36, the founder of JustAnswer.com, a Web site that provides expert advice, and his wife, Sara, 37, an event planner. The dinner-table talk is easy and relaxed, and the stew is hot, savory and delicious with its subtle hints of fennel.
Denevan wanders from one section of the long table to another, a glass of wine in hand, chatting with guests like a bride at her wedding. He's in his usual hosting uniform: Havaianas flip-flops, jeans, a Western-style denim shirt and cowboy-cum-surfer straw hat. I ask if he's worried about the temperature: By the end of the second course it's so cold I can see my breath. Not at all, Denevan replies -- it's all part of the adventure. He does admit that they hadn't expected it to be this cold -- the second coldest dinner in the history of Outstanding in the Field.
The waitstaff hands out Mexican-style blankets, which, we're warned, have been sitting in Denevan's bus for about four years. Musty or not, I huddle under the blanket with my neighbors and gladly accept another glass of full-bodied 2007 Dutton-Goldfield Devil's Gulch pinot noir.
As the sun sets and the temperature dips into the 40s, the main course arrives. A beautiful plate of cumin-marinated Devil's Gulch lamb with chard, baby turnips and spring onion criolla, it's my favorite yet. The meat is tender, with a touch of smokiness from the ground-dried pimentons (grown at another farm nearby). The grilled turnips and spring onions taste so fresh, it's as if they had been pulled from the soil moments before cooking.
After the main course I'm stuffed but also eager to try the rhubarb custard kuchen, a German-style cake that's ubiquitous in Chile, served with bowls of fresh strawberries. The cake is delicately sweet, and the berries taste just like summer. I regret that our final course is eaten in such a hurry; the unseasonably chilly weather brings our evening to an abrupt end as diners wolf down their desserts before dashing to the waiting shuttle buses.
If it weren't so cold, I could sit out here for another few hours chatting, drinking and enjoying the glorious view.
Earlier in the evening I met Stephen Gibbs, 43, co-owner of Hands On Gourmet, a San Francisco-based company that holds group cooking classes throughout the Bay area. Later I ask Gibbs what he thinks of this frigid dining experience.
"We should look at this for what it is instead of what it isn't," he says. "This isn't about fine dining. It's about humanity. It's about getting to know your neighbors and your community and the origins of your food."
The guests who were at my table couldn't agree more. "The wine and the stunning setting gave us all so much positive momentum," says Andy Kurtzig. "It would take a lot of cold to reverse it."

To write a note to the editor about this article,
click here
.