Pending home sales hit 6th straight increase
Index jumps by 3.2% in July, beating estimates and marking its longest streak on monthly increases on record.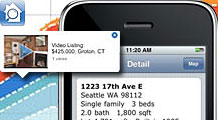 Real estate Web sites are constantly coming up with new ways for homebuyers to get information about the market. Here are 5 new sites that can make house hunting easier.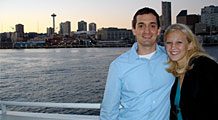 Thanks to sinking home prices, these 5 homebuyers were able to score deals in areas they couldn't previously afford.
NEW YORK (CNNMoney.com) -- More Americans signed sales contracts to buy homes in July than in June, marking the longest streak of monthly increases on record, said a report released Tuesday.
The pending home sales index from the National Association of Realtors rose 3.2% in July after rising by 3.6% in June. That's 12% higher than July 2008, and it marks the sixth straight increase since record-keeping began in 2001.
The reading far exceeded forecasts of economists surveyed by Briefing.com, who predicted a 1.5% increase.
Signed real estate contracts often take many weeks or months to complete, so they are considered a forward-looking indicator.
A new direction
Momentum in the housing market has clearly turned for the better, said NAR chief economist Lawrence Yun, in a written statement.
"The recovery is broad-based across many parts of the country," Yun said. "Housing affordability has been at record highs this year with the added stimulus of a first-time buyer tax credit."
The first-time home buyers tax credit, passed earlier this year as part of the economic stimulus package, is worth 10% of the home purchase price up to $8,000. People who have not owned a home in the previous three years are eligible for the credit.
However, the tax credit expires on Nov. 30 and it usually takes about 90 days to close on a house after a contract is signed. As of Sept. 1, there were only 90 days left before the credit ends.
Housing affordability has also improved, the NAR said.
The average middle-income family can now spend less than 25% of monthly income to buy a median-priced home, Yun said, adding that housing payments as a percentage of income in 2009 are at a record low.
"As long as home buyers stay within their budget, mortgage payments will be very manageable," Yun said.
Regional sales
The pending home sales index is broken down by regions. The West soared above the rest, jumping 12.1% in July, while the South saw pending home sales activity rise 3.1% for the month.
In the Northeast, activity fell 3%, and in the Midwest saw a decline of 2%.

Features

These Fortune 100 employers have at least 350 openings each. What are they looking for in a new hire? More

It would be the world's second-biggest economy. See how big companies' sales stack up against GDP over the past decade. More