Back-to-school sales flunk
Most retailers posting declines in August, indicating continued weakness in the consumer sector.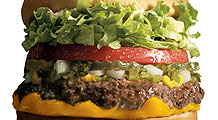 When these well-known brands went bust, franchise owners were left to soldier on with a tarnished brand.
When will you be debt free?
Enter credit card information
CC name
Balance
($)
Rate
(%)
Minimum
payment($)
2
3
Choose a plan
Minimum payments only
Fixed payments
$ monthly
Debt-free deadline
I want to pay off my credit cards in:
years and months
NEW YORK (CNNMoney.com) -- Back-to-school sales for major national retailers fell from last year, but the results were stronger than analysts expected, thanks in part to discounters.
August same-store sales, sales at stores open a year or more, fell 2.9% overall from last year, Thomson Reuters reported. Analysts had expected a 3.8% decline as consumers continue to feel the pinch of the recession.
"The overall index was not good by any means, but it was still almost a full percentage point above expectations," noted Ken Perkins, analyst at Retail Metrics.
Thomson said some shoppers who normally would have spent back-to-school money in August are likely waiting until the later Labor Day weekend in September. The fact that the Labor Day weekend was earlier last year, shifting the school schedule, also made year-over-year comparisons difficult.
While all five sectors -- discount, department, apparel, teen apparel and drugstores -- were down compared with August 2008, some fared better than others.
"It's bad, but it seems to be in line with expectations," said analyst Scott Hoyt at Moody's Economy.com. "These numbers are consistent with weak consumer fundamentals."
Consumers flock to discounts: Off-price retailers dominated the top spots, with Aeropostale (ARO) leading the way. The teen apparel store reported a 9% jump in same-store sales, beating expectations of a 7.1% increase.
Rounding out the top four were inexpensive department store Ross Stores (ROST, Fortune 500), discount women's clothing retailer Cato (CTR) and another department store, TJ Maxx (TJX, Fortune 500).
"It's pretty much the status quo; consumers are spending less," Hoyt said. "That's not surprising."
Overall, the discount sector's same-store sales were down 2.7%, beating Thomson's prediction of a 5.5% fall.
Upscale stores feel the pinch: By contrast, higher-end retailers fared the worst.
Apparel store Abercrombie & Fitch (ANF) posted a 29% year-over-year loss, by far the biggest drop. American Apparel, (APP) Saks (SKS) and teen clothing store Zumiez (ZUMZ) rounded out the bottom four.
"This is a story about extremely price-oriented consumers," Perkins said. "The more discretionary retailers just didn't see a good month."
Outlook: Analysts noted that the upcoming months will benefit from easy comparisons with the previous year, as the economy started to crumble around this time in 2008.
Hoyt said September "has the potential to look somewhat better," with easier 2008 comparisons, the later Labor Day weekend and back-to-school shopping kicking into gear.
"We expect some sequential growth," Perkins said. "It's just not going to be stellar."

Features

These Fortune 100 employers have at least 350 openings each. What are they looking for in a new hire? More

It would be the world's second-biggest economy. See how big companies' sales stack up against GDP over the past decade. More