Judge rejects Merrill bonus settlement
Bank of America and the SEC are told that a proposed $33 million penalty over Merrill Lynch bonuses is 'neither fair, nor reasonable, nor adequate.'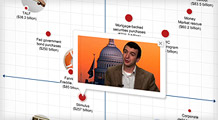 The collapse of Lehman led to a deeper recession and a litany of government programs to try to end the pain. We rate just how bold and effective the plans have been so far.
301 Moved Permanently
---
nginx
NEW YORK (CNNMoney.com) -- A federal judge struck down a proposed settlement reached between Bank of America and federal regulators over outsized bonuses paid to Merrill Lynch employee.
In a ruling issued Monday, U.S. District Court Judge Jed Rakoff called the proposed $33 million penalty between the Securities and Exchange Commission and the Charlotte, N.C.-based bank "neither fair, nor reasonable, nor adequate."
Both parties, as a result, were ordered to head to trial, starting Feb. 1, 2010.
In a statement issued Monday, the SEC maintained its belief that the proposed settlement was "properly balanced" but that it would carefully review the judge's ruling.
Bank of America was not immediately available for comment.
"As we said in our court filings, we believe the proposed settlement properly balanced all of the relevant considerations. We will carefully review the Court's most recent order," said John Nester, SEC spokesman.
The pair had struck a settlement agreement in early August after the SEC brought charges against Bank of America (BAC, Fortune 500) for allegedly misleading investors about billions of dollars in bonuses paid to Merrill Lynch employees.
Regulators had claimed that BofA effectively lied in its proxy statement, saying it would not pay out bonuses to Merrill employees in fiscal year 2008, when, in fact, the bank authorized bonus payments of as much as $5.8 billion. Of that allowance, $3.6 billion was paid out in 2008 to more than 39,000 Merrill employees.
An easy resolution to the matter seemed to fade in the following weeks however, as Rakoff pushed the pair for additional details on the terms of the agreement. He demanded to know, among other things, why the SEC did not pursue charges against BofA executives, and why the company agreed to settle if the firm felt it was innocent.
While not admitting any guilt, Bank of America has maintained it decided to settle with the SEC because it did not want to be distracted by a lengthy court battle with one of its main regulators at a time of market uncertainty.
Both parties tried to address some of those very questions last week, urging the judge for a second time to uphold the settlement.
Those pleas failed, however, as Rakoff showed little mercy towards either party in Monday's filing.
He called the settlement a "contrivance" designed to make it appear as if the SEC, which has been plagued by enforcement scandals over the past year, was doing its job.
Rakoff also blasted both parties for asking BofA shareholders to shoulder the cost of a settlement he labeled as "trivial."
"All this is done at the expense, not only of shareholders, but also of the truth," he wrote.
This is not the first time Rakoff has rejected a settlement struck between corporate offenders and regulators. In 2003, he refused to uphold a $500 million settlement between the SEC and bankrupt telecom giant WorldCom.
After the parties were forced to renegotiate the settlement, Rakoff later signed off on a $750 million fine. In that ruling, he also demanded that stock in MCI, the new company that WorldCom emerged from bankruptcy as, be set aside for former WorldCom investors.

Features

These Fortune 100 employers have at least 350 openings each. What are they looking for in a new hire? More

It would be the world's second-biggest economy. See how big companies' sales stack up against GDP over the past decade. More