Citi wants to cut government stake - reports
Bank proposes to issue new stock and sell government shares in order to reduce taxpayer's 34% stake, according to Wall Street Journal.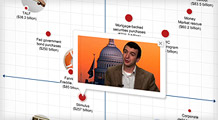 The collapse of Lehman led to a deeper recession and a litany of government programs to try to end the pain. We rate just how bold and effective the plans have been so far.
NEW YORK (CNNMoney.com) -- Troubled banking giant Citigroup is seeking to scale back the massive stake the government acquired in the company over the past year, according to reports published Tuesday.
Citing people familiar with the matter, the Wall Street Journal reported that Citigroup approached the Treasury Department last weekend to initiate talks over shrinking the government's investment in the firm.
Bloomberg, citing other sources, reported that the government may begin to sell shares in Citigroup as soon as October, with the hopes of completing a sale over the next six to eight months.
Since the crisis took hold a year ago, the government has had to step in more than once to pull Citigroup (C, Fortune 500) back from the brink. During that time, Treasury injected $45 billion into the firm and also agreed to share losses on a sizeable chunk of the bank's troubled assets.
Regulators recently converted a portion of the government's preferred-share stake into common stock to help bolster the firm's health. U.S. taxpayers, as a result, now own approximately 34% of Citigroup.
The government's stake has weighed heavily on Citi and other firms that have received exceptional federal assistance, such as Bank of America (BAC, Fortune 500) and insurer AIG (AIG, Fortune 500).
Compensation packages for Citi's highest-paid employees are now subject to scrutiny from the White House, which has prompted some of its top-performing employees to seek opportunities elsewhere.
Hoping to scale back the government's stake and its role in the company's day-to-day operations, Citigroup executives have been considering a multibillion-dollar stock sale, according to the Journal. As part of the offering, Citi would issue new company shares. In addition, the Treasury Department would sell a portion of its holdings, the paper said.
Citigroup declined to comment on the matter. The Treasury Department was not immediately available for comment.

Features

These Fortune 100 employers have at least 350 openings each. What are they looking for in a new hire? More

It would be the world's second-biggest economy. See how big companies' sales stack up against GDP over the past decade. More