Builder confidence up, but tax fears loom
An industry group says the nascent recovery in residential real estate could be derailed if a popular credit isn't renewed.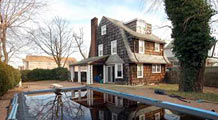 Here are the 5 metro areas where the average American family can afford to purchase a median-priced home -- and the 5 where they can't.
NEW YORK (CNNMoney.com) -- An index of home builders' confidence rose in September for the third month in a row, but an industry group said Wednesday the fragile residential real estate market recovery could be cut short if a popular government tax credit isn't extended.
The National Association of Home Builders said that its Housing Market Index, which it compiles for Wells Fargo, rose one point last month to 19 -- the highest level since May 2008.
The index, which fell to an all-time low of 8 in January, has increased steadily in 2009 as the housing market picked up in many parts of the country.
According to NAHB, the rebound in builder confidence is largely due to a temporary tax credit that the government created last year for first-time home buyers. Low mortgage rates and rock-bottom home prices also helped boost confidence, the group says.
The credit, which can be as high as $8,000, was established as part of the government's economic recovery act to help stimulate demand and revive the battered housing market.
As the market begins to show some sings of life, however, builders are becoming worried that the credit, which is set to expire Nov. 30, will not be renewed.
"The window is now basically closed for being able to start a new home that can be completed in time for buyers to take advantage of the tax credit," said Joe Robson, NAHB's chairman and a home builder from Tulsa, Okla, in a statement. "Builders are concerned about what will keep the market moving once the credit is gone."
To that end, the index component that measures builders' expectations for sales in the near future fell one point in September to 29, after rising for five months in a row.
More than 1.5 million taxpayers are expected to claim the credit, according to an NAHB spokeswoman.
Meanwhile, the National Association of Realtors said earlier this month that the credit has already brought 1.2 million new buyers into the market, including 350,000 buyers who would not have purchased a home without the credit.
White House press secretary Robert Gibbs said Wednesday that the Obama administration is evaluating how the tax credit has impacted home sales and could recommend that the President extend it.
While the tax credit has helped stabilize the housing market, falling home prices are the real reason why sales have begun to rebound, according to Mike Larson, real estate and interest rate analyst at Weiss Research.
"I believe the tax credit is the icing on the cake of this housing market recovery, not the cake itself," Larson said in a research report.
Indeed, a government report released earlier this month showed that roughly 315,000 people have claimed the tax credit so far. However, industry analysts point out that those figures reflect a small portion of homebuyers who could ultimately claim it.
For buyers interested in taking advantage of the credit, time is of the essence.
Because it usually takes around 90 days to close on a house after a contract is signed, buyers have very little time left to act. As of Sept. 16, 78 days remain before the credit ends.
In addition to uncertainty about the tax credit, builders are also wary about a "critical lack of credit" for new home construction projects and ongoing problems related to appraisals that NAHB says are sinking one quarter of all new-home sales.
"These concerns need to be addressed if we are to embark on a sustained housing recovery that will help bolster economic growth," said NAHB chief economist David Crowe, in a statement.

Features

These Fortune 100 employers have at least 350 openings each. What are they looking for in a new hire? More

It would be the world's second-biggest economy. See how big companies' sales stack up against GDP over the past decade. More