Dollar near 1-year low after Fed
Greenback holds near one-year low after central bank leaves key rate near 0%.
Photos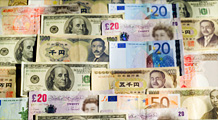 NEW YORK (CNNMoney.com) -- The dollar hovered near a one-year low Wednesday after the Federal Reserve left a key interest rate unchanged near 0%, though it said "economic activity has picked up."
At 2:15 p.m. ET, the U.S. central bank released a statement at the end of its two-day policy meeting. The Fed kept interest rates at a record low between 0-0.25%.
Investors were also looking to the Group of 20 meeting in Pittsburgh this week, where world leaders will call for a global effort to tighten financial regulation in order to prevent future financial crises.
Some world leaders have questioned the dollar's place as the global reserve currency. The buck tumbled sharply last fall as Lehman Brothers failed and U.S. banks began to collapse.
The dollar began rising again when stocks hit their nadir in early March, as investors shied away from risk. Despite the U.S. economy's shaky standing, the currency was still perceived as a safe place to park money.
But lately other markets have moved higher, prompting investors to sell their dollars and invest in stocks, oil and other commodities. The resulting weakness of the dollar has put its global future in question.
China asked for debate on the issue during a Group of Eight meeting in July. But Japanese officials have said that it would be difficult for another currency to replace the dollar and that they're against any move that would unnecessarily weaken the greenback.
Those concerns have intensified lately as the U.S. recovery remains in doubt. The dollar has traded at one-year lows in recent weeks, and it was slightly lower against a basket of currencies after the Fed statement Wednesday.
The buck was down less than 1% against other currencies. It edged down 0.3% against the euro, to $1.4836. The British pound rose 0.54% against the dollar, to $1.6445.
The dollar ticked down 0.17% against the Japanese yen, buying ¥90.94. Both currencies are considered safe havens in an uncertain economy.

Track 17 major currencies
Features

These Fortune 100 employers have at least 350 openings each. What are they looking for in a new hire? More

It would be the world's second-biggest economy. See how big companies' sales stack up against GDP over the past decade. More