Wall Street bonuses poised to rebound
With the financial sector recovering, banks face a conundrum. Big bonuses could spark a backlash, but small bonuses could cause top talent to flee.
Photos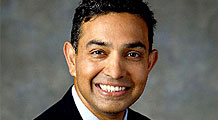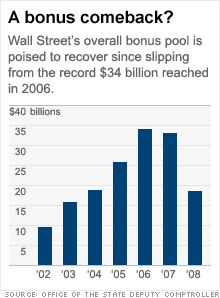 NEW YORK (CNNMoney.com) -- With Wall Street continuing to recover, so are the prospects for this year's bonus season.
As early as June, experts were speculating that incentive payments for U.S. banks and securities firms could rebound sharply given the resurgence in certain parts of their business.
Now with analysts predicting impressive third-quarter numbers from some of the nation's largest financial firms, big bonuses for top Wall Street talent seems increasingly certain.
Bonuses largely hinge on one thing: company revenues. Typically, about half of a financial firm's annual sales goes towards compensation expenses like salaries, benefits and bonuses.
Right now, revenue projections for some of the leading banks are as high as they have ever been.
Banks have enjoyed a nice rebound in business, particularly in their fixed income and currency divisions, while underwriting activity has picked up as of late.
"Firms are just crushing it," said Michael Hecht, an industry research analyst for JMP Securities.
JPMorgan Chase (JPM, Fortune 500) has already delivered record revenues over the past two quarters, and is expected to finish the year with just north of $100 billion in revenues. Goldman Sachs (GS, Fortune 500) is expected to post sales just shy of its record of $46 billion, reached in 2007.
With about three months left in the year, it's premature to give a final tally of the overall bonus pool. It will be tough to top the record of $34 billion in bonuses doled out to Wall Street workers in 2006, which worked out to an average of $190,600 per employee.
But it seems pretty certain is that Wall Street is on track to surpass the roughly $18 billion in total bonus payments made last year, a period in which even the mightiest firms were hurt by severe losses tied to soured securities.
More money to go around?
If Wall Street winds up doling out more money in bonuses this year, that almost certainly would mean that the average payment will be significantly higher than a year ago as well. That's because there are fewer workers left to split up the bonus pie.
As of August, there were nearly 162,000 individuals working in the securities industry, down more than 16,000 from the end of 2008, according to the New York State Department of Labor.
But experts say that will place top-performing firms like Goldman and JPMorgan in the difficult position of having to find a way to compensate key employees without incurring the wrath of politicians and the public.
Neither firm is currently beholden to any sort of pay restrictions anymore now that they have returned bailout money to the government. Still, the salaries and bonuses of Wall Street executives very much remains a sensitive subject in Congress and among the American public.
In July, Goldman was roundly criticized after it was revealed that the company had already set aside $11 billion for compensation expenses. That put Goldman on track to pay its employees, on average, a record-high $773,000 for 2009.
Fearing a backlash when bonuses are officially released at year's end, experts think banks like Goldman will most certainly move to reward employees with bigger equity stakes in the form of restricted stock or options instead of large cash bonuses.
Banks, as a result, could claim that employees are now motivated to act in the best interest of shareholders, which served as one of the biggest criticisms about Wall Street's bonus culture in the wake of the crisis.
Alternatively, financial firms could skimp on incentive payments. But such a strategy could prove risky, particularly at a time when finance pros have increasingly been leaving big Wall Street firms for boutique shops or foreign rivals such as Credit Suisse and Deutsche Bank that are not subject to the same compensation scrutiny.
Jeff Harte, senior research analyst for Sandler O'Neill, warned that banks may not have as much flexibility to pay people smaller bonuses than they might have in the past because of the risk of losing top talent to competitors.
To remedy any fallout from this year's bonus season, some senior executives may agree to accept smaller compensation packages this year, Harte said. But rainmakers such as traders and investment bankers who continue to generate chunks of revenue for financial firms will probably continue to be rewarded handsomely.
"It is harder not to pay someone who is bringing in business," he said.

Features

These Fortune 100 employers have at least 350 openings each. What are they looking for in a new hire? More

It would be the world's second-biggest economy. See how big companies' sales stack up against GDP over the past decade. More