Foreclosure blight: The cleanup crawls along
Washington put up billions to save blighted areas by buying abandoned homes. But states and cities are having trouble getting properties away from banks.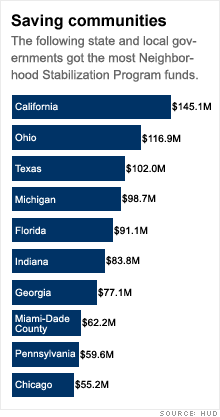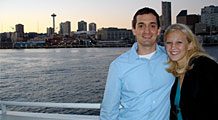 Thanks to sinking home prices, these 5 homebuyers were able to score deals in areas they couldn't previously afford.
NEW YORK (CNNMoney.com) -- A controversial $3.9 billion federal program aimed at saving neighborhoods blighted by foreclosure is hitting hurdles that could threaten its effectiveness.
The Neighborhood Stabilization Program, passed by Congress last year, gives states and localities money to acquire and rehabilitate abandoned properties. The big problem: officials are having trouble getting their hands on those houses, which are being scooped up instead by private investors and homebuyers at rock-bottom prices.
"Getting hold of the houses, especially the right houses, can be a lot harder than they thought," said housing expert Alan Mallach, a non-resident senior fellow at the Brookings Institution. "They are finding there's a lot more competition for these properties, and they are losing out to investors."
Some locales now fear that they won't be able to commit their allotment to specific projects by next fall's use-it-or-lose-it deadline, forcing them to expand or change the scope of their efforts. But altering the plans may lessen their success, experts said.
"The challenge has been to get this money into the field and working," said Michael Tierney, chief operating officer of Local Initiatives Support Corp., a community development organization. "It's moving more slowly than we anticipated. I don't think it will have as much impact as we originally hoped."
CNNMoney.com spoke to federal and local government officials, community development groups and housing experts to determine how the program is progressing a year after its enactment. During that period, the foreclosure crisis has only gotten worse and is expected to continue declining.
There are 2.5 million homes in the foreclosure process, with about 750,000 in the hands of banks, according to Mark Zandi, chief economist with Moody's Economy.com. As many as 4 million foreclosed homes will be sold by the end of 2011, he estimates.
The debate over the neighborhood stabilization initiative has been contentious from the start. Supporters said it would help eliminate blight and stop home values from plunging. Opponents argued that the paltry sum wouldn't do much considering the vast supply of vacant homes on the market.
Recognizing the severity of the problem, the federal government allotted another $1.9 billion to neighborhood stabilization as part of February's stimulus package. That money has yet to be distributed.
Ramp up is the toughest
The program's initial stage -- during which officials must contract with banks and developers -- is the most difficult, said Mercedes Marquez, assistant secretary at the Department of Housing and Urban Development.
Before they see a dime, state and local governments must tell HUD how and where they plan to use the funds. Many have never been involved in this type of work, making the ramp up even more challenging. Often, officials hire nonprofit groups to do most of the acquisition, rehab and financing.
"It's a lot of work to implement," said Marquez, who feels the program is on track overall.
So far, some 13.8% of the funds have been obligated for a variety of uses, including buying and rehabbing foreclosed homes, demolishing decrepit ones and helping homebuyers purchase and renovate foreclosed properties.
To be sure, some locales are further along than others. Certain big cities, such as Chicago and New York, have the necessary staff and experience. Some have already turned vacant properties into livable homes.
Others, however, have yet to buy a single house.
Among the stumbling blocks has been acquiring foreclosed homes from the banks at the required 1% discount to the appraised value.
To really be effective, states and local officials must target abandoned homes in specific neighborhoods or even on particular streets. But that could involve complex negotiations with multiple banks. And, with housing markets starting to revive in many locales, financial institutions are often more eager to sell to private buyers.
Take what's happening in the city of Orlando, which is using its $6.7 million allotment to turn foreclosed properties into affordable housing and to provide downpayment assistance.
Buyers are flooding the Florida market as home prices plunge. The median price for a single-family home in the Orlando metro area is down 29% in August compared to a year earlier, and sales are up 48%. That makes it all the more difficult for Orlando officials to secure properties.
"We thought the banks would be so happy to see us coming with our money," said Lelia Allen, director of the City of Orlando Housing and Community Development Department. "That has not necessarily been the case."
So far, the city and its nonprofit partners have purchased five properties, spending about $322,000. They have 17 offers out on homes worth a total of $1.2 million.
Knowing that her department has to commit all its money by next fall, Allen is making changes to the original plan. She has expanded the size of the targeted neighborhood in order to have more foreclosed properties to choose from. And she's planning to ask HUD whether some of the money can go to grants for people who buy foreclosed homes on their own, but need help financing the renovations.
Even places that are confident they can meet the deadline are finding the process challenging. It's particularly tough to put together rehabilitation proposals that make financial sense, mainly because the federal program requires that one-quarter of the funds help very low-income people. Officials say they can only reach this group by turning foreclosed homes into inexpensive rentals.
In Rhode Island, which has a $19.6 million allocation, officials have found it relatively easy to spend $3 million on downpayment assistance for nearly 80 families and $4 million to purchase very rundown foreclosed properties that will be renovated at a later date.
But they have been slower to spend the $9 million targeted for acquisition and rehab, said Noreen Shawcross, chief of the state's Office of Housing and Community Development. To complete the renovations, nonprofits need to find financing beyond the stabilization funds. That's been difficult to do, particularly for housing aimed at the lowest income strata.
"It's harder to make development work when you are getting lower rents," said Shawcross.
Not everyone sees the increased competition for foreclosed properties as a problem. This activity will also bring stability to neighborhoods, said Joseph Pigg, senior counsel at the American Bankers Association.
"If the private market is coming back and buying houses and crowding the government out, that's not a bad thing," he said.
Help is on the way
Acknowledging the program's implementation is causing "a lot of anxiety," HUD's Marquez said the department has allocated $50 million to provide support for struggling localities. It contracted with community development experts to help state and local governments.
"If there is a barrier, how can we help break it or bridge it," Marquez said.
These support teams should hit the ground in October. Marquez said she would not be surprised if more state and local officials then amend their plans to meet the market realities in their neighborhoods.
State and local governments will also be able to seek help from a new community organization aimed at facilitating the transfer of foreclosed properties from banks, said Ali Solis, senior vice president at Enterprise Community Partners.
Created by Enterprise and other nonprofit groups, the National Community Stabilization Trust is working with several large financial institutions to give governments access to foreclosed homes before they hit the market. The trust has also lined up a $50 million low-interest credit line that officials and nonprofits can use to acquire homes.
Ultimately, the question remains whether the program will meet its goal: to stabilize and revitalize communities plagued by foreclosure. Experts are mixed in their views, with some hopeful that the effort will still do some good in targeted areas and others wondering how much of an impact it will have.
"It's very unclear when the dust settles how much real change in neighborhood stability and quality of life we'll see," said Brookings' Mallach.

Features

These Fortune 100 employers have at least 350 openings each. What are they looking for in a new hire? More

It would be the world's second-biggest economy. See how big companies' sales stack up against GDP over the past decade. More