Manufacturing growth slows
Activity slipped slightly in September but marks the second straight month above contraction levels.
Bailout tracker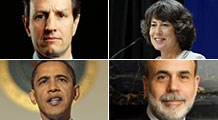 The government is engaged in a far-reaching - and expensive - effort to rescue the economy. Here's how you can keep tabs on the bailouts.
More
Millions of job openings!
NEW YORK (CNNMoney.com) -- Manufacturing activity ticked down slightly in September but still marked a second straight month above contraction levels, a purchasing managers' group said Thursday.
The Tempe, Ariz.-based Institute for Supply Management's (ISM) manufacturing index reading of 52.6 missed estimates from economists, who expected a jump to 54 from August's 52.9, according to a Briefing.com consensus survey.
"It appears the fundamentals for continuing recovery are still at work," said ISM chairman Norbert Ore, in a prepared statement.
August's report snapped 18 straight months of contraction in the sector. Manufacturing is a considered a key gauge of the strength of the overall economy.
The monthly report is a national survey of ISM members, who are purchasing managers in the manufacturing field. Index readings above 50 indicate growth, while levels below 50 signal contraction. Readings below 41.2 are associated with a recession in the broader economy.
"The ISM index remained in expansion territory ... with [some] positive signals," said Wells Fargo economist John Silvia, in a research note. "Yet employment still lags ... The jobless recovery continues."
The data track new orders, production, employment, supplier deliveries, inventories, customers' inventories, the backlog of orders, prices, new export orders, imports and buying policies.
Of the 18 manufacturing sectors reporting, 13 posted growth -- including categories such as apparel, transportation equipment and paper products. Sectors reporting contractions included furniture, plastics and machinery.
New orders slip: The key new orders component fell by 4.1 percentage points in September, to 60.8. New orders are a gauge of manufacturing activity in the near future.
Despite the slip from August, this is the third consecutive month signaling growth in new orders. A reading above 48.8, over time, is generally consistent with an increase in the Census Bureau's data on manufacturing orders.
"This index suggests improved investment spending in the fourth quarter," said Wells Fargo's Silvia.
Employment: The employment component fell to 46.2 in September, down 0.2 points from the previous month.
That marks the 14th consecutive month of decline in employment. Consistent readings above 49.7 are generally tied to an increase in government data on manufacturing employment, the report said.
The employment index is one of the "bumps along the path to growth," Silvia said. "This is consistent with our estimate of a jobless first year of recovery."
We want to hear about the most outrageous consumer rip offs and price gouging that you've come across. E-mail your story to julianne.pepitone@turner.com and you could be part of an upcoming article. For the CNNMoney.com Comment Policy, click here.

Features

These Fortune 100 employers have at least 350 openings each. What are they looking for in a new hire? More

It would be the world's second-biggest economy. See how big companies' sales stack up against GDP over the past decade. More