Personal bankruptcies hits a 4-year high
Mounting unemployment and housing crisis push the filings to the highest level since 2005.
Photos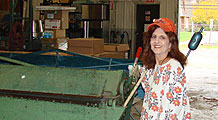 301 Moved Permanently
---
nginx
NEW YORK (CNNMoney.com) -- Personal bankruptcies topped the 1 million mark in the first nine months of the year, the first time it has done so in four years, according to an industry research firm released Friday.
The personal bankruptcies were up 35% from the same period in 2008, according to the report from the American Bankruptcy Institute (ABI).
"Bankruptcy filings continue to climb as consumers look to shelter themselves from the effects of rising unemployment rates and housing debt," said ABI executive director Samuel Gerdano.
The recession triggered more individuals earning $40,000 or more per year and those with associate or bachelor degrees to file for bankruptcy in 2008 than in years past, according to the annual Consumer Bankruptcy Demographic Report released by the Institute for Financial Literacy in June, and the organization expects the trend to continue.
"The folks going into bankruptcy are reflective of the middle class debtor," said Leslie Linfield, executive director of the Institute for Financial Literacy. "The biggest problem is that people are over extended on their credit. It's been the perfect storm of credit card debt and mortgage debt leading to delinquencies."
While only 37.6% of consumers who filed for bankruptcy in 2008 attributed job loss, Linfield expects that number to rise significantly for 2009. "At the end of last year, unemployment hadn't crept up as high as it is now," Linfield said.
Unemployment, which climbed from 7.2% in December 2008 to 9.8% in September 2009, will continue to push consumer bankruptcies higher until they peak in late 2010 or 2011 before leveling off, said Linfield.
There were 1,046,449 consumer bankruptcies in the first nine months of this year. It was the highest nine-month figure since 2005, when consumers filed 1,350,360 bankruptcies in the first three quarters of the year, according to ABI, which uses data from the National Bankruptcy Research Center.
But while the 2005 figure was influenced by a change in the bankruptcy law, this year's filings are a lagging indicator of the depths of the current economic crisis, said Maureen Thompson, legislative director for the National Association of Consumer Bankruptcy Attorneys in Washington.
"People end up in a bankruptcy attorney's office as a last resort," she said. "They are people who have been laid off, have tried to hang on with their savings thinking they could weather the storm, and are doing whatever they can to pay off their debt," adding that consumers usually feel forced to file when they face legal action.
In October 2005 that Congress passed a law making it harder for consumers to prove that they should be allowed to just clear their debts in a Chapter 7 bankruptcy.
The new law forced more people to file under Chapter 13, in which consumers are put on a repayment plan of up to five years. Any debts not addressed by the repayment plan do not have to be paid.
In the months leading up to the law change, more people rushed to file for bankruptcy before the act was effective, said Thompson, accounting for the "artificially high" number of filings that year.
Still, about 71% of consumers who filed for bankruptcy in the first nine months of the year filed for Chapter 7, up from 66.5% in 2008, according to ABI.
ABI, an industry research firm, expects consumers to file more than 1.4 million bankruptcies in 2009, up at least 30% from last year's total of 1,074,225.
September 2009 filings rose to 124,790 which was up 4% from August 2009 and up 41% from September 2008.

Features

These Fortune 100 employers have at least 350 openings each. What are they looking for in a new hire? More

It would be the world's second-biggest economy. See how big companies' sales stack up against GDP over the past decade. More