Entrepreneurs create their own recovery
Hardy business owners are running uphill, growing their companies despite the recession.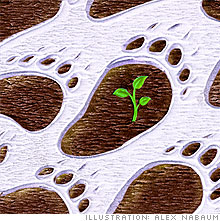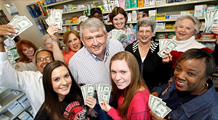 Using $2 bills and "buy local" promotions, these 6 towns have launched their own campaigns to keep local businesses alive.
(Fortune Small Business) -- Back in August, Federal Reserve officials suggested that the Great Recession was ending and the U.S. could expect "a gradual resumption of sustainable economic growth." But even with stock market indexes and the bottom lines of large financial firms bouncing back, small businesses can expect a longer slog to economic health.
"Small business performance is a lagging indicator of recovery in the same way that unemployment is," says Villanova University business school professor John Pearce II.
And it's likely that small businesses will find this recovery even slower than previous ones. The downturn has especially hurt construction firms, retailers and food service providers, the vast majority of which employ fewer than 20 workers. To make matters worse, more than 110 banks have failed since early 2008, most of them community thrifts catering to the financial needs of local firms.
Here's how a few savvy entrepreneurs are turning these headwinds to their advantage.
Penny pinchers. The prolonged recession, paired with expectations that recovery will be slow at best, has been particularly damaging to premium firms that sell high-margin products and services.
On the flip side, companies that offer affordable consumer products or business services aimed at helping firms cut costs are faring better. For example, Joe DiVittorio, owner of Eddie's Pizza in Hyde Park, N.Y., saw revenues increase slightly this year even as his customers clutched their piggy banks. "We haven't raised our prices in more than a year," he says. "We think people will keep their lifestyles at a lower scale."
And Evolve IP, a Wayne, Pa., firm that manages computer networks and VoIP telephone systems, signed some $30 million in contracts during the recession. Why? Largely because its services help clients trim their tech staffs, says co-founder and COO Guy Fardone.
Left behind. "The U.S. hasn't led the way out of the recession -- it's been China and, to some degree, Europe," says Mark Zandi, chief economist and co-founder of Moody's Economy.com.
In the U.S., Zandi predicts, the industrial Midwest and states slammed by foreclosures will continue to lag, while such tech centers as Austin, Boston, Seattle and Washington, D.C. -- as well as globalized businesses -- will do better.
Take Alpha Software, a Burlington, Mass., firm that helps companies automate tasks like insurance-quote generation. Co-founder Richard Rabins expects a 10% revenue boost in 2009, in part because nearly a third of his sales come from Asia, Australia and the U.K.
Corporate meltdown. An 18.7% drop in business investment during the first half of 2009 rocked the small businesses that provide their larger brethren with buildings, equipment and software. But the $400 billion in contract spending in the American Recovery and Reinvestment Act -- 23% of which is supposed to go to small businesses -- has turned government into a savior for some.
(According to stimulus-tracking site Recovery.org, $103 billion in stimulus had been disbursed through mid-September. Although Uncle Sam is notorious for failing to meet contracting set-aside quotas for women, minorities and small businesses, it's fair to assume that at least part of this sum made it to small firms.)
Austin-based flooring seller and contractor Commercial Flooring Systems once got 80% of its business from corporate and high-tech clients. But after business slid 27% during the first quarter of 2008, company president and founder Scott Coll, 47, shifted four project managers and salespeople to work with architects and designers who specialize in government and healthcare contracts. That move spurred 13% revenue growth in the second quarter. Although 2009 revenue is down about 15% from 2008's $8 million total, 60% of Coll's business now comes from government and the healthcare sector.

To write a note to the editor about this article,
click here
.