Hummer sale: GM closer to deal with China company
GM and Tengzhong sign definitive agreement for Hummer sale. GM and AM General will continue to make vehicles through at least 2011, saving 3,000 U.S. jobs.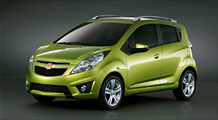 General Motors recently showed reporters and select members of the public what it plans to build over the next two years.
NEW YORK (CNNMoney.com) -- General Motors moved a step closer to selling its Hummer brand Friday when it announced that it had signed a definitive agreement with a Chinese manufacturer.
Sichuan Tengzhong Heavy Industrial Machinery Co. and GM said in June that they had reached a preliminary agreement and expected to close by the end of September.
It appeared the deal may be in trouble after the companies missed that target last week. Friday's announcement provides assurances that the agreement has not come undone.
GM spokesman John McDonald said the terms of the definitive agreement are along the lines of the earlier deal. The Chinese government still must give its approval.
The deal represents China's first significant move into the U.S. auto market.
China has become one of the largest markets for auto sales and manufacturing and is expected to eventually start exporting cars to the United States.
But at least through June 2011, the Hummer H3 will continue to be built at GM's Shreveport, La., assembly plant on a contract basis, while the H2 will be built at privately-held AM General's Mishawaka, Ind., assembly line. The Indiana facility also produces the Humvee vehicles used by the military.
Both contract agreements have a one-year extension option. The deal is expected to protect about 3,000 U.S. jobs, according to GM's statement.
Hummer is one of four U.S. brands worldwide that GM decided to shed as part of bankruptcy process this summer, along with Saturn, Pontiac and Saab.
While CEO Fritz Henderson said earlier this week the sale of Saab remains on track, a deal to sell Saturn to Penske Auto Group (PAG, Fortune 500) fell apart last week and GM is now moving to shut that brand. It never intended to sell the Pontiac brand, which will be phased out this fall.
U.S. sales of Hummer have plunged 64% this year to only 8,193 vehicles. That is more than twice the decline of the broad auto industry.
This year's sales plunge followed a 51% drop in 2008 due to the start of the recession and record high gas prices. Its high point came in 2006, when it sold 71,524 vehicles.

Features

These Fortune 100 employers have at least 350 openings each. What are they looking for in a new hire? More

It would be the world's second-biggest economy. See how big companies' sales stack up against GDP over the past decade. More