Madoff victims sue SEC for 'negligence'
Two who say they lost millions to the convicted Ponzi schemer accuse the regulator of failing to protect investors.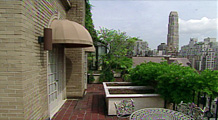 The New York City home where Bernard Madoff spent his last days has a buyer, reportedly at near the $8.9 million asking price. Take a peek inside.
NEW YORK (CNNMoney.com) -- Two victims of the convicted Ponzi schemer Bernard Madoff filed suit Wednesday against the Securities and Exchange Commission, accusing the government regulator of negligence in failing to protect investors.
Phyllis Molchatsky and Steven Schneider filed their lawsuit in the U.S. District Court in New York, where Madoff pleaded guilty in March to 11 federal counts, including fraud, and was sentenced in July to 150 years in federal prison.
Molchatsky and Schneider accuse the SEC of failing to detect Madoff's long-running scam, which stole billions of dollars from thousands of investors.
"Through its negligent actions and inactions ... the SEC caused Madoff's scheme to continue, perpetuate and expand, eventually in billions in losses by investors, and directly caused [the two] plaintiffs to lose more than $2.4 million," read the lawsuit, filed by the New York firm of Herrick, Feinstein LLP.
The lawsuit said that SEC regulators had "countless opportunities" to stop Madoff's scheme "and botched all of them."
"Instead of watching the backs of Ms. Molchatsky and Dr. Schneider and the backs of all the other investors, the SEC -- through its negligence -- was effectively watching Bernie Madoff's back," said one of the plaintiffs' lawyers, former SEC attorney Howard Elisofon. "Now it is time for the SEC to be held accountable and for the federal government to do what the law says it must do: compensate the victims for its negligence."
The lawsuit noted that, between 1992 and 2008, the SEC received "at least eight complaints or submissions indicating that Madoff was operating a Ponzi scheme."
When asked about the suit, SEC spokesman John Heine said, "Based on our initial understanding of the matter, we believe there is no merit to the complaint."
Last month, the U.S. Attorney's office in New York, which prosecuted the case, said the losses of Madoff's 2,336 victims exceeded $13 billion.
Madoff, age 71, is incarcerated at the Federal Correctional Institution Butner in North Carolina and faces a release date of Nov. 14, 2139. He operated a classic Ponzi scheme, masquerading his investment firm as legitimate when it was nothing more a front. He would use the funds from new investors to send payments to his more mature investors, falsely portraying these payments as proceeds from investments, when they were actually stolen money.
Madoff claimed to have had $65 billion, but this was a fraudulent figure. That court-appointed trustee, Irving Picard, is still trying to determine how much money Madoff stole.
This isn't the first lawsuit related to the Madoff case. In July, Picard sued Madoff's wife Ruth for $45 million. In September, he sued four of Madoff's relatives for $198 million.
In addition, Madoff has been forced to forfeit the trappings of his former lifestyle to comply with a $170 billion legal judgment. That figure is based on the amount of money the government says was handled by his firm since its founding in the 1960s.
CNN's Miguel Susana contributed to this report.

Features

These Fortune 100 employers have at least 350 openings each. What are they looking for in a new hire? More

It would be the world's second-biggest economy. See how big companies' sales stack up against GDP over the past decade. More