Wall Street braces for onslaught of earnings
The quarterly results period hits high gear this week, with American Express, Apple, Coca-Cola, Yahoo and Microsoft all on tap.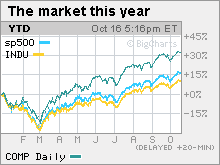 NEW YORK (CNNMoney.com) -- So far, so good. But next week brings the first big test for corporate profits.
"Earnings have been beating and revenues have been roughly in line, which is good, but it's also raised expectations," said David Chalupnik, head of equities at First American Funds.
Those expectations will be put to the challenge in the week ahead, the first of the two peak weeks for results, according to profit tracker Thomson Reuters.
Apple (AAPL, Fortune 500) on Monday kicks off a big week for marquee-name corporations to report results, with 135, or 27% of the S&P 500 on the docket. That list includes 13 Dow components. The standouts are: American Express (AXP, Fortune 500), Microsoft (MSFT, Fortune 500), Merck (MRK, Fortune 500), Pfizer (PFE, Fortune 500), 3M (MMM, Fortune 500) and Coca-Cola (KO, Fortune 500). Other big names due to report include: Yahoo (YHOO, Fortune 500), Wells Fargo (WFC, Fortune 500), Amazon.com (AMZN, Fortune 500) and eBay (EBAY, Fortune 500).
Chalupnik said that results are likely to be decent over the next few weeks, helping the market inch a bit higher through year's end, although not at the breathless pace of the recent rally. Any market advance will also be helped by a slowly improving economy, stronger world markets and a weaker dollar.
Since bottoming at a 12-year low March 9, the S&P 500 has rallied nearly 61%, while the Dow has rallied nearly 53%, through Friday's close. The Dow topped 10,000 twice last week, a key psychological level, but it failed to hold on to it through year end.
In addition to profits, Fed Chairman Ben Bernanke speaks twice next week and economic reports are due on housing, inflation and the jobs market.
A good start: With 61 companies, or 12% of S&P 500 companies having reported results, both earnings and revenue have beaten expectations by a solid margin. According to Thomson Reuters, 79% of the companies that have reported results have beat on earnings and 61% have beat on revenue.
Should that number hold up it would be the best percentage in Thomson history, going back over a dozen years. But the first big week of reports was front loaded with names like Goldman Sachs, JPMorgan Chase and Intel, all of whom were expected to easily beat forecasts.
"It's a good start, but it could prove to be similar to what happened in the second quarter, where a strong start weakened by the end," said John Butters, senior research analyst at Thomson Reuters.
Financials in particular are providing the early strength, as has been expected. The sector is on track to outperform all others, with profits expected to grow nearly 100% from a year ago, when results plummeted amid the height of the credit crisis.
Despite Alcoa's better-than-expected sales and earnings reports, the materials sector is expected to be the worst performer, posting declines of 63% versus a year ago.
But materials is the smallest sector in the S&P 500 and poor results there will have a limited impact.
Currently, overall profits are on track to have dropped 22.6% versus a year ago, an improvement from a week ago when the year-over-year decline was expected to be just short of 25%. Still, the drop in profits this quarter means the S&P's losing streak stretches to nine straight quarters, the worst since Thomson has been tracking results.
Revenue is expected to have fallen 10.4% versus a year ago.
See the chart for details on next week's big reports.
Economy
Monday: Federal Reserve Chairman Ben Bernanke is speaking at the Federal Reserve Bank of San Francisco on Asia and the financial crisis, starting at around 11:00 a.m. ET.
Tuesday: The Producer Price index (PPI) a measure of wholesale inflation, is due before the start of trading. The government report is expected to show no change in September after rising 1.7% in August. So-called core PPI, which strips out volatile food and energy prices, is expected to have risen 0.1% after rising 0.2% in August.
September housing starts and building permits are due shortly after the start of trading. Housing starts are expected to have risen to a 610,000 annual unit rate from a 598,000 unit annual rate in August. Building starts, which measure builder confidence, are expected to have risen to a 590,000 unit annual rate from a 579,000 unit annual rate in August.
Wednesday: The weekly crude inventories report from the government is due in the morning.
Shortly after the start of trading, the state-by-state unemployment rates are due for release.
Fed Governor Daniel Tarullo speaks about the economy in Washington D.C., starting around 1 p.m. ET.
The Federal Reserve releases its periodic "beige book" survey on the economy in the afternoon.
Thursday: The weekly jobless claims report from the Labor Department is due before the start of trading. Around 517,000 Americans are expected to have filed new claims for unemployment last week versus 514,000 in the previous week.
Continuing claims, a measure of those who have been receiving benefits for a week or more, are expected to have fallen to a 5.990 million from 5.992 million in the previous week.
The Conference Board's index of leading economic indicators (LEI) is due after the start of trading. LEI is expected to have risen 0.9% after rising 0.6% last week.
Friday: Chairman Bernanke is speaking at the Federal Reserve Bank of Boston conference on financial regulation and supervision after the crisis. He is due to start speaking at around 8:30 a.m. ET.
The September existing home sales index is due out shortly after the start of trading. Sales are expected to have risen to a 5.35 million unit annual rate from a 5.10 million unit.

Features

These Fortune 100 employers have at least 350 openings each. What are they looking for in a new hire? More

It would be the world's second-biggest economy. See how big companies' sales stack up against GDP over the past decade. More