Long-term Obama loan modifications prove elusive
Treasury department extends mortgage aid trial period by two months. But loan servicers are having trouble compiling all the needed paperwork.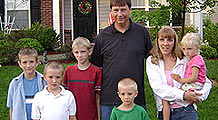 Homeowners in trouble are having mixed results applying for President Obama's foreclosure prevention plan. CNNMoney.com readers tell us their tribulations and triumphs trying to get their loans modified or refinanced.
NEW YORK (CNNMoney.com) -- Half a million people are now in trial modifications under the Obama administration's mortgage rescue plan, but getting them permanent help is proving to be difficult.
The foreclosure prevention plan, which reduces eligible borrowers' monthly payments to no more than 31% of their pre-tax income, requires homeowners to make three on-time monthly payments before they can receive a permanent modification.
Loan servicers use the trial period to verify borrowers' income and ascertain whether they can handle the reduced payments.
But servicers say they are having a tough time collecting the necessary documents to determine whether troubled borrowers should receive permanent adjustments. They contend that some homeowners aren't sending in their tax returns, bank statements and pay stubs. Borrowers, on the other hand, complain that their paperwork is being lost.
The Obama administration recently made several changes to the program to give the transactions more time and streamline the plan.
Last month, it extended the trial period by two months to give servicers more time to collect the documents. And last week, it announced that servicers could automatically move qualified borrowers into permanent modifications without their signatures.
The Treasury Department said these moves should make it easier for qualified borrowers to get permanent modifications, according to a spokeswoman. Officials are discussing ways to make it even easier, she said, including allowing servicers to access tax records directly from the Internal Revenue Service.
It is in servicers' interest to convert eligible borrowers since they only get incentive payments when the modification is made permanent, the Treasury spokeswoman said. Plus, if the government finds institutions to have wrongly deny swaths of people, it could impose penalties.
"Treasury is also working intently with servicers to help ensure that they execute in helping more borrowers convert to permanent modifications," she said.
Who's to blame?
Servicers say they are wrestling with getting the completed documents they need to put borrowers in permanent modifications.
At JPMorgan Chase, for instance, representatives call and send letters to homeowners detailing what they still need to mail in. The bank says it has improved its system for collecting paperwork so that lost documents are not the problem. The issue, it says, is that homeowners are simply not sending in what's required.
"At first blush, you'd think that for people who've made three payments, it would be a no-brainer to get the paperwork in," said Tom Kelly, a Chase (JPM, Fortune 500) spokesman. "But for some people, it just hasn't been the case."
A Citigroup (C, Fortune 500) spokesman also said the documentation process has been challenging.
But many borrowers and housing counselors contend that homeowners send in their documents multiple times, only to be told their files are incomplete. This has been a problem that's plagued the program from the beginning.
On top of that, housing counselors report that banks are sending homeowners forms with the wrong income data listed, which could jeopardize their chances of getting a permanent modification.
One homeowner's problem
Many borrowers are growing increasingly nervous as they near the end of their trial modification periods with no decision from their servicers.
Jim Copley, a Minneapolis homeowner, was given a trial modification five months ago. He found he could no longer afford his $1,650 monthly payments after the housing collapse decimated his home-painting business.
After receiving a temporary adjustment that cut his payments to $955 a month, Copley sent his servicer, Bank of America, all the required income documentation in June. He was shocked to learn two months later that there was some paperwork missing. He called again and was told that his file was, in fact, complete and that he should continue making reduced payments until he was told otherwise.
"Every time I talk with them, I get a different story," said Copley, a single dad who now makes a third of his previous income selling meat to restaurants. "No matter what I do, I can't get any kind of an answer."
A Bank of America (BAC, Fortune 500) spokeswoman said that Copley's file is complete and that he should receive a decision about a permanent modification soon.
It remains to be seen how many people will qualify for permanent modifications.
"If the trial modifications don't convert to permanent modifications, then the program won't be considered a success," said Barry Zigas, director of housing policy for the Consumer Federation of America.
Have you turned into a saver because of the recession? How have your saving and spending habits changed? Please email your stories to CNNMoney.com and you could be part of an upcoming article. For the CNNMoney.com Comment Policy, click here.

Features

These Fortune 100 employers have at least 350 openings each. What are they looking for in a new hire? More

It would be the world's second-biggest economy. See how big companies' sales stack up against GDP over the past decade. More